Encana (NYSE:ECA) has a compelling story: It is a North American Energy Giant that derives 100% of its revenue from North American assets, with 80% of its revenue coming from natural gas. Encana is also investing heavily into the Oil Sands. In total, the Company now has more than 9.36 million acres of developed land in North America. Even better, it has 18.96 million acres of land that is yet to be developed, also located in North America. This has given Encana a vast drilling inventory of about 40,000 well locations. Encana is also beginning to reach beyond North America and acquire interests in Brazil, the Middle East, Greenland and France.
Natural Gas Prices Currently Low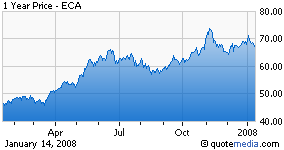 If you believe natural gas prices will rise, Encana might be a good investment play. Many experts believe natural gas is going to do quite well in 2008, when comparing the price of oil to natural gas, due to a deviation from the normal price multiples. Rather than expecting oil to drop, they are expecting natural gas to increase. On topics like this, everyone has their own opinion. Mine is quite simple: As long as the USD is losing value, commodities that maintain their demand will increase when priced in USD. Caution: You must remember that Encana is based in Canada and needs the price of natural gas to increase in Canadian Dollars to realize a gain. The Company will also have higher royalty fees in Alberta to worry about in 2008.
Oil Sands
Encana is going full steam ahead with its Oil Sand Projects in Alberta. Encana is in a 50/50 partnership with ConocoPhillips (NYSE:COP) to create an integrated heavy oil business. Over the next decade it expects production to increase to 190,000 bbls/d at Christina Lake Project alone. Encana has two other heavy oil projects at Pelican Lake and Foster Creek.
Encana's Future Growth
Encana certainly has positioned itself to continue growth within North America. I don't need to mention the importance of domestic oil and gas sources and the risks associated with projects in many other parts of the world. As an investor, I am very cautious when deciding whether to invest in a foreign oil projects and believe you must weigh the political risks very carefully. That said, I'm positive that Encana will continue to grow its operations. Any increase in the price of natural gas or oil is just extra icing on the cake.
Encana means business when they are talking about their growth strategies and projections. Encana is currently building "The Bow", a $1 billion, 1.7 million sq. ft skyscraper in downtown Calgary. It will be the largest building in Canada outside of Toronto, and will be home to all of its 3,300 Calgary-based employees. It's a big enough building that they are closing a downtown street for about a year!
I also want to mention the Company's main goal is to increase net asset value per share through:
Disciplined capital investment in the development of its large unconventional resources,
Pursuit of strategic initiatives that unlock value through optimization of the company's enormous North American asset base, and
Return of free cash flow to shareholders through share purchases and dividends.
I realize the above is the typical investor relations spiel, but I think it's important to understand how the company is going to reward shareholders. The third point is interesting. Encana has been able to consistently increase cash flow: In 2007 Q3, Encana's cash flow was $2.2 B, or $2.93 per share - up 27%.
Encana currently has a 1.20% dividend yield. I wonder how long until that increases. I don't expect it to increase by much as long as they have such a wide variety of projects that need funding. Regardless, Encana looks like it's set to grow and deliver some gains to its shareholders. Encana currently has a P/E of 15, a large domestic base of resources, and a 1.2% dividend yield.
Full disclosure: The author does NOT own shares in ECA at the time of writing this article.