Horizon Lines (HRZ) is a maritime transport and logistics company. It is the only Jones Act shipper to serve the three non-contiguous regions of Puerto Rico, Alaska and Hawaii. In addition, the company also ships to Guam as well as Asia as part of an agreement with Moller Maersk.
Market Cap: $527M
Dividend: $0.44 (2.7%)
Intrinsic Value: At least $24.
Accumulation Range: $16 or better
Valuation
While it's somewhat dangerous to use DCF valuation on companies with a short track record, I feel comfortable with the company's long operating history (through various parent companies) and the protected nature of their business due to a) the Jones Act and b) the non-contiguous nature of their markets should mean shipments will still come, even in a recession (if somewhat reduced).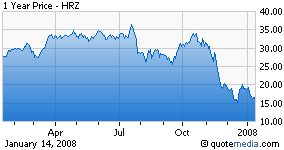 During the Q3 conference call, company reiterated 2008 FCF guidance of $120M and stated that investors could use that number as a base for future growth. If the company comes close to that number, the stock is worth at least $50.
I'm basing my valuation on a range centered around $50M FCF for 2008 and 5% growth. Based on this, I'm comfortable with a valuation of minimum $24 with an open-ended top number due to the potential for huge cash flow. Keeping in mind that at $50M FCF is 41% of recent company guidance, I'm looking at a company around 10x P/FCF with significant room to the upside.
The company's returns on invested operating capital (a la Greenblatt) are a bit erratic, showing ROIC numbers of 20% in 2005, 36% in '06 and 29% for TTM. I added back in depreciation & amortization to the denominator to account for the company's future ship replacement program. All in all, solid returns from running their business.
Another factor to consider is the state of their balance sheet. The company's leverage position may be overstated as their ships are carried on the books at cost. Factoring in a conservative figure of $150M replacement cost per ship (remember that these ships must be built in American shipyards to qualify under the Jones Act and it's doubtful one could get new ships at that figure) and depreciating them in proportion to the average age of the fleet brings the debt-to-equity ratio closer to 1-2x as opposed to 4x as of Q3 2007.
But in the end, this is a cash flow story. The high interest levels, at a significant chunk of operating income, mandates the company generate robust cash flow. If they can execute, this investment should pay off at this price. The Skinny: You can find an excellent business overview and breakdown of Horizon Lines' business on Value Investor Club.
A few additional notes
Management sees volume growth as stable or slightly growing in all markets except for Puerto Rico, which has been experiencing an economic downturn for the last year or two. However, the company noted signs that the PR market may be bottoming.
The company also claims that customers have been requesting an expansion of Horizon's logistics capabilities and have been moving to fill that need as evidenced by their August 2007 acquisition of Aero Logistics. Management set expectations of minimum $500M in revenues over 5 years from an expansion in their logistics segment which I have not factored into my valuation of the company.
The removal of the Puerto Rico tonnage tax provision from recently proposed Congressional legislation demonstrates the secure political position of Horizon and other Jones Act operators (regardless of which party controls Washington DC) and eliminates the specter of a tax writedown on next quarter's results.
Last week, Seth Klarman's Baupost Group disclosed an 11% stake in the company. This is especially interesting as Klarman had been steadily reducing his HRZ position for several quarters before revealing a slight increase in Q3 2007 filings. While it is a bit dangerous to open positions based solely on "whale-hunting" (see Mohnish Pabrai's disastrous position in Delta Financial), I have no problem admitting that Klarman's disclosure gives me a little extra confidence in my assessment.
Disclosure: Author has open Jan '08 $17.5 puts on HRZ.
This is an excerpt edited specifically for Seeking Alpha. You can find a more thorough detail of risks, upside, probabilities and management here.