CIBC's (NYSE:CM) subprime crisis is "more disturbing" than previous missteps by the bank because it occurred after chief executive Gerry McCaughey had apparently adopted a lower-risk strategy for the bank in the wake of its massive Enron legal bill in 2005, National Bank analyst Rob Sedran said in a note.
Mr. Sedran said:
While those prior missteps were never welcomed, we believe they were the inevitable by-product of an aggressive culture focused on revenue growth rather than controlling tail risk. Moreover, while the Enron charge was painful, it also provided closure on the issue that allowed management – if not the market – to move on almost immediately. In our view, there is less opportunity for such closure available to the bank this time.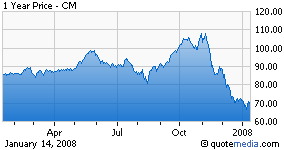 With the full extent of the bank's subprime woes still uncertain, the bank's depressed stock price will continue to suffer until investors are persuaded the issues are contained, said Mr. Sedran.
The National Bank analyst added that CIBC's stock price currently reflects either a reduction in wholesale earnings of more than 50% as the bank moves to avoid further risk, or a dilutive equity issue of C$2.4-billion — Mr. Sedran calculates a C$2.4 billion equity issue (or roughly 10% dilution) would be required if CIBC's subprime charges exceed C$5-billion.
Neither of those events are "a high probability" but both are possible, said Mr Sedran. "In fact, owing to that uncertain outlook, the possibility that things could be worse arguably exists," he added.
National Bank has a "sector perform" rating on CIBC, and an C$82 target price.