One of the ways to tell if a company is in trouble is to check their SGA expenses. SGA refers to selling, general, and administrative expenses. It is the "overhead" a company has to meet to sell its products. The lower the SGA expenses to the company's revenues, the greater the prospects of making profits. You can access SGA expenses at Reuter's under the company's financials. Dividing SGA/revenues gives a method of comparing similar companies to see how they are doing with their overhead.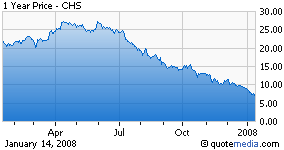 Let's compare Chico's (NYSE:CHS) to others in the apparel sector. Last quarter, Guess? (NYSE:GES) came in at an excellent 24%, Limited Brands (LTD) at 29%, J. Crew (JCG)at 33%, the beat up AnnTaylor (NYSE:ANN) at 45%, and CHS at a whopping 53%.
I expect that CHS will report in March a far worse quarter, having already admitted December same store sales down a dismal 14% and total sale down 5.6%. Yet with all their weak revenue and earnings, they are still opening stores having already increased square footage of their stores 22% in 2007.
Disclosure: Author has a short position in CHS