Best Buy Co. (NYSE:BBY) operates as a retailer of consumer electronics, computing and mobile phone products, entertainment products, appliances, and related services primarily in the United States, Europe, Canada, and China. Best Buy is scheduled to report its quarterly results on May 22, 2012.
Analyst Estimates
The consensus for EPS is $0.60 based on 22 analysts' estimates, up from $0.35 a year ago. Revenue estimates are $50.17M. The median target price by analysts for the stock is $25.
Average recommendation: Hold
Recent EPS Actuals vs. Estimates
The company has met or exceeded analyst estimates in two quarters out of the last four. It has done so in the last quarter by 14.4%.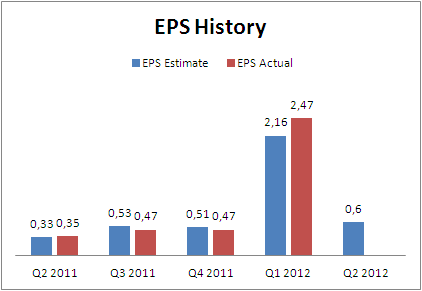 Key Metrics
Market cap: $6.31B
52 week trading range: 18.22 - 32.85
Forward P/E (fye Mar 3, 2014): 4.94
PEG Ratio: 0.98
P/S: 0.12
P/B: 1.68
Annual dividend yield: 3.4%
Total debt: $2.21B
Return on Equity: 5.66%
Return on Assets: 8.68%
Latest Developments
On May 18, 2012 (Friday), Electronics retailer Best Buy Co. caught some bearish commentary from analysts at Bank of America. The firm maintained its "Outperform" rating on BBY, but lowered its price target from $18 to $16. That new target suggests a 13% downside to the stock's Thursday closing price of $18.44.
On May 15, 2012, Best Buy Co. announced that it is joining forces with Cooking.com, a leading online marketplace for cooks, to launch a microsite for customers to be able to purchase cookware and kitchenware in addition to Best Buy`s regular assortment of small and large appliances.
On May 14, 2012, Best Buy Co. announced that on May 12, 2012, it elected director Hatim Tyabji to succeed Richard Schulze as Chairman of the company, effective at the conclusion of the annual meeting on June 21, 2012.
On May 10, 2012, Five Star, Best Buy's Brand in China, partners with Assurant Solutions to provide extended protection for its retail customers.
On April 16, 2012, it was ex-date for dividend payment of $0.16.
On April 16, 2012, Fitch Ratings affirmed its Issuer Default Rating (IDR) on Best Buy Co. at 'BBB-' and revised the Rating Outlook to Negative from Stable. As of March 3, 2012, Best Buy had $2.2 billion of debt outstanding.
On April 15, 2012, Best Buy has released the full list of 50 stores that it will be closing or has closed this year. The retailer had announced the number of the closures on March 29, but has released a full list of the stores (today) and given a timeline for their shuttering.
On April 10, 2012, Best Buy Co. announced that Brian Dunn resigned as Chief Executive Officer and director. Director G. Mike Mikan has been named interim CEO to lead the company, while a search for a new CEO is underway.
On April 3, 2012, Best Buy was downgraded by McAdams Wright Ragen from Buy to Sell.
On March 29, 2012, Best Buy Co. issued FY 2013 guidance in line with analysts' estimates.
Competitors
Best Buy is a retailer that specializes in selling appliances, consumer electronics, home office products, and software. The main direct competitors for the company are: GameStop (NYSE:GME), Conn's (NASDAQ:CONN) and RadioShack (NYSE:RSH).
Sources: Yahoo Finance, Google Finance, CNBC, Marketwatch, Reuters, Forbes.
Disclosure: I have no positions in any stocks mentioned, and no plans to initiate any positions within the next 72 hours.