Those of you wondering how smartphone vendor and handheld organizer titan Palm (PALM) would withstand increasing competition from Apple (NASDAQ:AAPL) and the like may be interested to note that Palm Monday unveiled a pink version of its Centro phone/organizer for $99, using service from Sprint (NYSE:S). (Engadget has a brief write-up of the product.)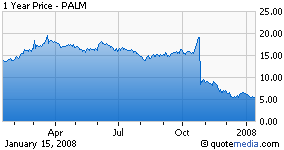 Kind of odd to make this momentous product introduction the week after the biggest consumer electronics show on the planet, and the day before Apple's chief executive Steve Jobs obliterates all memory of any other kinds of products with his talk in San Francisco at the Macworld show. Kind of odd.
Will the Pink Centro save Palm and Sprint? Will it even help? You know better than I, dear readers.
Palm shares today are off 3% at $5.39.