ETFs Get More Complex
ETFs are becoming more popular and as this happens, they are becoming more complex.
The line between the 15-year old industry and mutual funds is blurring as providers are jockeying to register the first truly actively managed ETF, says Stan Choe for the Associated Press. Such ETFs may beat their benchmarks, but with higher expenses - like a mutual fund. Another problem facing providers is the update of holdings. Mutual funds update quarterly, and some ETF providers are willing to disclose these daily, however, another fund manager can mimic a funds moves this way.
When actively managed ETFs hit the market, they're going to hit with a great big thud. Most investors look to ETFs to simply track a market or sector, and they don't want a manager doing their research for them.
Malaysian Upswing
Malaysia's economy is hopping along, if the performance of its ETF is any indication.
The iShares MSCI Malaysia (NYSEARCA:EWM) was up 7.7% last week. What's going on?
The country's currency, the ringgit, reached its strongest level since November 1997, Chan Tien Hin of Bloomberg reports. The key index, the Kuala Lumpur Composite Index, posted a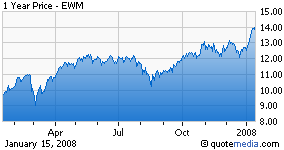 fifth-straight record, stocks jumped higher and there was speculation that a possible early general election may drive even more gains.
Some say that Malaysia could be viewed as a safe haven while the United States economy works through its issues.
Meanwhile, according to Forbes, Malaysia's securities watchdog introduced an over-allotment option and price stabilization for initial public offerings (IPOs) in the country. That will allow issuers to sell investors more shares than originally planning so that demand for an IPO can be met efficiently.
SPDR Asset Growth
A family of ETFs grew larger in 2007, money-wise.
Select Sector SPDRs' assets climbed $8.87 billion, or 51.95%, reports the Centre Daily Times. In terms of sectors, the Select Sector SPDRs Financials (NYSEARCA:XLF) pulled in the most assets, $5.02 billion - that's 122.94% growth.
Wait a minute. Isn't the financial sector hurting? Then why are so many assets flowing into it?
One possible reason, according to the director of wealth management at Select Sector SPDRs in an appearance on CNBC, is that investors may simply see a basket of funds as less risky than an individual stock. Minimizing your direct exposure in some sectors, especially ones that are hurting, can in turn minimize portfolio risk.
Dolan cites the example of Merrill Lynch (MER) vs. XLF. Last year, Merrill Lynch lost 41.3%. Contrast that with XLF, which lost 19.2%. Yes - still a loss, but a significantly lower one. It's another example of the benefits of ETFs and the instant diversification they provide.
State-Specific ETFs
It looks like one thing on my ETF wish list for 2008 is closer to coming true.
An Oklahoma City securities firm has plans to launch an ETF made up exclusively of stocks issued by state-based publicly traded companies, reports Don Mecoy of NewsOK. The fund would need to gather about $10 million in holdings to be successful, says the president of Capital West Securities, the firm that will launch the ETF.
Right now, Capital West is putting together a five-year record of how the fund would have performed and is working to develop a registration.
Meanwhile, StateShares also has 21 state-specific ETFs in registration with the Securities and Exchange Commission.
Tech Troubles
Has there been a huge deterioration of technology-related ETFs and stocks?
Arthur B. Hill of ETF Investment Outlook thinks so. Some of the biggest stocks have seen a downslide over the past three weeks, including Hewlett-Packard (NYSE:HPQ), Cisco (NASDAQ:CSCO), Intel (NASDAQ:INTC), MEMC (WFR). Important tech ETFs are showing signs of firmness and of being oversold. While it could lead to a bounce, it may only be an oversold bounce, in Hill's opinion.
With all of the new technology-related gizmos introduced at the Consumer Electronics Show last week in Vegas, perhaps we'll see a spike in demand for these kinds of goods. That, in turn, could deliver a boost to related ETFs in the future.

The Technology Select Sector SPDR (NYSEARCA:XLK) is down 7% in the last month. Will the tide change soon? The fund's holdings include Cisco (7.14%), Hewlett-Packard (4.51%) and Intel (5.6%).
2007 Tally
The final ETF tally for 2007 is out, and the news is good. Between the number of funds added to the roster and the assets brought in, ETFs crossed two thresholds.
Kevin Burke for Ignites reports that in the last month of the year, $32 billion in assets were brought in, lifting the total assets in ETFs to $608 billion. Meanwhile, 17 ETFs were added to the fold, meaning the total number of U.S. listed ETFs is now at 629.
Despite the growing ranks and assets, some analysts say that many ETFs aren't profitable, which could lead to a possible culling of the herd. This will be a year to wait and see what happens.