The beauty of being a long-term, value investor is that you get vindication every 20 years or so. Unfortunately, that is small compensation for all those luncheons with colleagues bragging about their stock picks doubling, when the best thing you have to celebrate is a ten-cent dividend bump. There are also uncomfortable situations, such as stepping into the batter's box at the company softball game, as hecklers taunt you with nicknames like "Dead Money."
For better or worse, my value-oriented investment style generally prevents me from participating in "bubbles." Early in that phase, frothy stocks are disqualified by my value screens, so all I can do is watch them inflate, rise and pop. This article describes how I believe the market action of Apple (NASDAQ:AAPL) and Facebook (NASDAQ:FB) signals that the "Dot-com Bubble" can rest in peace.
The anticipation leading up to the Facebook IPO, combined with lofty valuations of some tech-related stocks, has created whispers of a tech bubble rebirth. With the tech-heavy NASDAQ Composite Index eclipsing the 3000 mark for the first time in a decade after the Dot-com Bubble burst, it may be worth considering if a new generation of action-addicted investors are ready for Dot-com2. The concerns of a bubble probably contributed to the NASDAQ drop of more than 8% in the first half of May.
Remembering the Dot-com Bubble. For our younger readers, we will briefly revisit the phenomenon of the Dot-com Bubble, which occurred mostly between 1996 and 2001. The advent of breakthroughs in computing, and especially the internet, created a flood of enterprises to take advantage of the new frontier in technology. Many of these companies went public, and their stocks became fashionable on Wall Street. Although most of these companies had little or no revenue and only vague plans for how they would earn their keep, soon Main Street became involved in the feeding frenzy, driving technology stocks to dizzying heights and the NASDAQ to over 5000.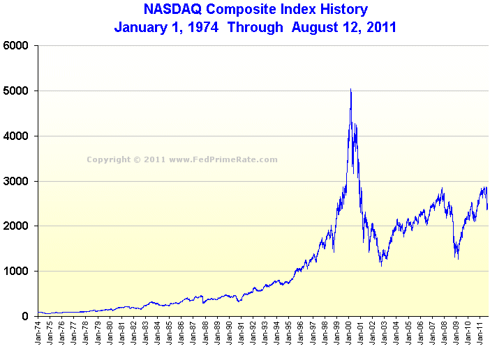 One of the exciting boats I missed was theGlobe.com (OTCPK:TGLO), an internet startup founded in 1994 by Cornell undergraduates Stephen Paternot and Todd Krizelman. A social networking service, theGlobe.com made headlines by going public on November 13, 1998 at $9 and posting the largest first day gain of any IPO in history up to that date, rocketing to $97 per share. Unable to monetize the popularity of its site, the company's stock price collapsed the next year, and the company retrenched for several years before ceasing operations in 2008. CEO Paternot was spotted in discos with his model girlfriend, dancing on tables and wearing shiny leather pants. He was quoted nationally, "Got the girl. Got the money. Now I'm ready to live a disgusting, frivolous life." He became infamous as the "plastic pants CEO," and he was the poster child for inexperienced and irresponsible internet wunderkinds.
The Significance of Facebook. The Facebook story is so eerily similar to theGlobe.com's that it is interesting to compare the market action of the two super-hyped startups. The Facebook IPO became the litmus test for the "irrational exuberance" factor in the current stock market environment. The press covered the minute-by-minute price movements as if the fate of the US economy depended on it.
Facebook did make its ballyhooed arrival as a public company on Friday, but the IPO proved to be underwhelming from the perspective of day traders betting on giant price swings. The market had one final chance to relive the Dot-com heyday, but most did not show up for the party. This is an indication that investors are adopting at least a wait-and-see attitude before betting the farm on an internet stock that is unproven from a profit-generating perspective. This is totally different from the debut of theGlobe.com, so maybe the market has learned a lesson from the Dot-com Bubble.
The Significance of Apple. One of the reasons that it becomes more difficult for the tech and internet stocks to become "bubble-icious" is because Apple has set the bar so high for true innovation and revenue growth. At some point when making decisions on where to sink our money, we have to compare the investment candidate with other available public companies in a similar sector. While it is true that Apple is a manufacturing company as well as a technological innovator, its PE of 12 for the 2012 earnings estimate stands as an attractive alternative to others with triple-digit PEs. As long as Apple is casting its giant shadow over the market, the Dot-com Bubble probably cannot regenerate. Money to inflate the bubble will go into AAPL or other legitimate growth stocks with value attraction.
Significance for the Stock Market. A market environment that is susceptible to bubble creation is usually the beginning of the end of a bull run. The fact that the investing public did not bite at the Facebook IPO like piranhas attacking a flabby swimmer in an inner-tube tells us that the current market is in a rational mode and looking for verifiable value. There is the "wall of worry" about the Euro situation, anemic housing and unemployment, but there are always some issues to assure that investors tread into stocks with a healthy caution. A common symptom of all financial bubbles is the notion of a "sure thing." In May 2012, we certainly do not have that attitude.
Of course, there are some "momentum investors" that live and die according to a philosophy of jumping on band wagons. Cloud computing companies are the latest fad, and Salesforce.com, Inc. (NYSE:CRM) is a good example. As Facebook was making its debut, CRM jumped about 12% to $145.58 per share on the announcement of $.37 of quarterly earnings. Annualized, that puts the PE a little under 100. CRM is generating profits and growing revenue at a 30%+ rate so it is not an unproven concept. It should be noted that, during the Dot-com Bubble, Amazon. com (NASDAQ:AMZN) sold for more than $100 per share before dropping back to $9. It now sells for more than $210 and has a forward PE of 180. It appears having ".com" in a stock name still has some attraction.
Despite the popular examples above, we do not see the desperate need to jump into the growth stocks at any price that we experienced during the Dot-com Bubble. That seems to indicate that there may be legs still for the bull market that began in 2009.
Vindication. No doubt, value investors miss a lot of the action. If you are an adrenaline junky, it is not the best investing style, but it usually does let you sleep at night. Hanging your hat on real and verifiable value measures and not having a deadline for success are tactics for statisticians, not gamblers. However, for those of us that measure returns by the decade rather than the day, week or even year, the payoff tells the story. My personal experience is that this style consistently averages a modest return of about 7 - 8% annually. The S&P 500 Index over the last 50 years has averaged 5.4% per year.
According to Standard & Poor's, the dividend component was responsible for 44% of the total return of the last 80 years in the index. Most of the stocks that contribute to bubbles pay no dividend at all. That does not mean that there is nothing in the internet sector that a value investor might put into a long-term portfolio. "Long-term" does imply that the company needs to have growth, not necessarily big boosts from the latest fad, but possibly from a reliable source of recurring income. Finally, even the most stodgy investor wants at least a remote possibility of a price pop.
It would not be right to close without leaving a value selection. Our favorite in this sector is Telular Corporation (WRLS), which was featured in the first article in our "Shadow Stock" series. Telular Corporation designs, develops, and distributes products and services that utilize wireless networks to provide data and voice connectivity among people and machines primarily in the United States and Latin America. The recent market decline has dropped WRLS back into a fair long-term accumulation range, and the 5% dividend looks solid while we wait for the market to recover. Besides growth in the existing business due to low penetration in its markets, its technology can be transferred to other industries.
Even though you get no respect as a value investor, try not to gloat when the bubble pops...if you can.
Disclosure: I am long WRLS.