Baytex Energy Corporation (NYSE:BTE) is one of my favorite monthly dividend paying securities. The stock is falling in sympathy with the overall market. I believe the equity offers a compelling valuation when based upon its current dividend and growth potential. Baytex currently offers a 5.8% annual dividend yield.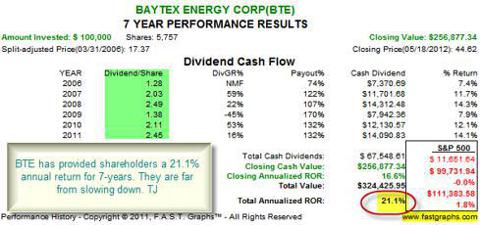 Areas of Operation
Baytex Energy Corp. focuses on oil and gas extraction, primarily in Canada (primarily in Alberta, with some operations along Alberta's border with British Columbia on the west and Saskatchewan on the east), with a growing presence in the U.S. (north west corner of North Dakota).
Company Profile
Baytex focuses on acquisitions and organic production increases for steady growth in profits, steady distribution of monthly dividends, a sustainable payout ratio, efficiency in operations and maintaining a strong balance sheet.
Baytex has reserves of 252.2 Million Barrels of Oil Equivalents (MMboe) with a production life of about 13 years. In the first quarter (Q1), Baytex produced 45,918 bbl/d of oil (over 80% heavy oil, less than 20% light oil and natural gas liquids) and 45.1 Millions of Cubic Feet Per Day (MMcf/d) of natural gas, for a total of 53,433
Barrels Of Oil Equivalent Per Day (boe/d). Its quarterly revenue runs at about $343 million. To fund its growth, Baytex sells debt and equity through capital market transactions.
A significant capital expenditure difference exists between Baytex and Enerplus (NYSE:ERF). Enerplus has relied, to a greater extent, upon the debt and capital markets for capital expenditures. Enerplus is now allowing shareholders to reinvest dividends into shares versus receipt of cash dividends.
Enerplus is attempting to continue its monthly dividend with unsecured notes, hope for natural gas revival, and plans to sell assets in approaching months. The company should simply reduce its dividend. This is a practical solution versus paying out excess cash dividends than incoming revenues. Enerplus' stock price reached 52 week lows, at $13.69, on May 18th. Management has focused upon not reducing dividends at the expense of current hydrocarbon and global economic business events.
Baytex maintains a policy of reinvesting a portion of its earnings into capital expenditures and distributing the remaining as cash dividends.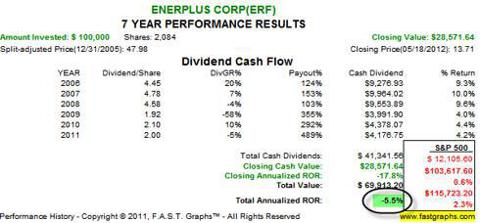 Quarterly Results
For its first quarter ended March 31, 2012, Baytex had record quarterly oil and gas production of 53,433 boe/d of which 86% was oil and natural gas liquids (NGL) and 14% was natural gas. Proceeds from fuel sales totaled $343.4 million from which it generated operating cash of $141.7 million and reported net income of $43 million ($0.36 per share, down 25% from $0.48 per share in Q4 2011). Revenue was sequentially down from $367.8 million in Q4 2011 but up year-over-year from $290.3 million in Q1 2011.
In the quarter, the average price of oil and NGL fell to $68.54 per barrel from $73.13 in the prior quarter. Natural gas prices fell to $2.46 per mcf from $3.91 in the prior quarter. Relative to Q4 2011, oil production increased 2% while natural gas production dropped 4%. The drop in average prices resulted in lower revenue and profits in the quarter.
In the quarter, Baytex spent $2.3 million on property acquisitions and lost $3.6 million from property divestitures. In April 2012, Baytex sold 45% of its North Dakota acreage (40% of U.S. production) to Bakken Hunter for $311 million because it was non-operated and had a lower average working interest than other lands.
It ended the quarter with $326.9 million in bank loans and $300 million in long-term debt.

Baytex has 25% of its 2012 heavy oil hedged. This drops off to 20% for 2013. The company actively is hedging production revenues based upon forecast capital expenditures.
Dividends
Baytex currently pays a monthly dividend of $0.22 or $0.66 per quarter, up from $0.60 in Q1 2011. In December 2011, Baytex raised its monthly dividend to $0.22 from $0.20 in November 2011. Baytex pays approximately 50% of its earnings as cash dividends. The remaining 50% is reinvested in capital expenditures.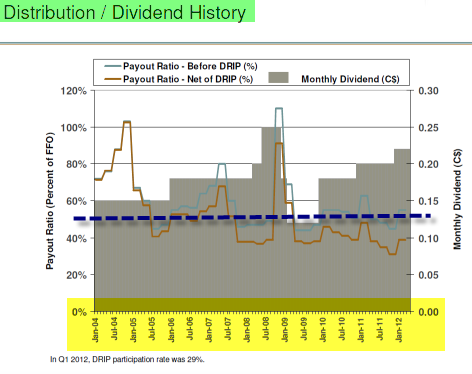 Its annual dividend payout of $2.62 delivers a dividend yield of approximately 5.8% based on a share price of $44.62 as of May 18, 2012 (market capitalization of $5.3 billion and a price to earnings ratio of 25.3).
Action
I believe Baytex is a long term winner in the Canadian monthly dividend oil sector. I prefer the company's focus upon internal funding and monthly dividends.
Enerplus, in order to pay its dividend, must sell off assets or issue additional unsecured notes. I prefer the Batytex growth and internal funding business model. Baytex shares appear to be a terrific bargain right now.
Disclosure: I am long BTE.