The table below shows the 2008 rankings but doesn't tell the whole story.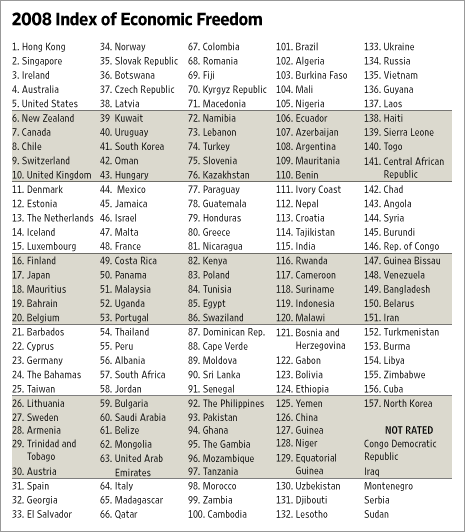 The Index reports that the freest 20% of the world's economies have twice the per capita income of those in the second quintile and five times that of the least-free 20%. In other words, freedom and prosperity are highly correlated.
The 2008 Index finds that while global economic liberty did not expand this year, it also did not contract. The average freedom score for the 157 countries ranked is nearly the same as last year, which was the second highest since the Index's inception.
This is somewhat of an achievement considering the rising protectionist and anti-immigration sentiment in the U.S., the uncertainty created by spiking global energy prices, Al Gore's highly effective fear mongering about global warming, and the continuing threat of the Islamic jihad.