Yesterday, Reuters reported from the North American Auto Show in Detroit that "U.S. auto sales will likely fall again in 2008 due to economic stress on consumers, raising pressure on struggling Detroit automakers to cut prices or use sales incentives". Given the latest turmoil in the equity markets and rising general sentiment that a recession is forthcoming or possibly already here, these comments won't likely come as a huge surprise to many.
What is intriguing in these comments from an event sponsored by the Society of Automotive Analysts is not weaker sales forecasts but rather the potential escalation of incentive programs by manufacturers to stimulate sales. Over the past 18 months, the industry has not been aggressively pursuing incentives which usually accompany large scale advertising campaigns to raise awareness of them. As a result, this has had a detrimental impact on the traditional media sectors--television, radio and newspaper--that rely heavily on automotive spending to drive revenue growth.
The Reuters article mentions Mark LeNeve, head of General Motor's (NYSE:GM) North American Sales, who told them he "expects the U.S. auto industry to increase incentives and promotions to maintain sales above the 16 million mark in 2008". If 16 million is the preferred target for the industry, the use of incentives look much more likely, as recent forecasts from many automotive analysts have now weakened to around 15.5 million. LeNeve was further quoted as saying "if the industry starts to raise incentives, we will participate, we will stay competitive to protect our share and keep our dealers healthy." This would be extremely welcome news for downtrodden media companies.
In December 2007, The Nielsen Company released its projections for the top advertisers on traditional media outlets for all of last year, spending that was dominated by the automotive sector. However, the decline in their U.S. spending year over year was staggering with General Motors leading the way- down 22% from 2006.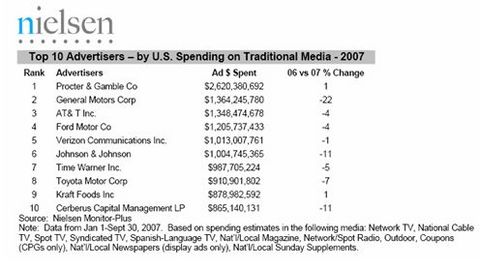 What is one industry's pain may be another's pleasure, here, if the automotive sector does finally kick start its slumping advertising spending to promote new incentives. This could be a windfall for media companies if there is a significant pick up in the latter half of 2008, when major advertising events - general presidential election advertising and promotional spending related to the 2008 Olympics - will already be in the market, tightening available advertising inventory. While these two events predominantly benefit the television sector, it could also bode well for radio broadcasters who generally see the immediate spillover effect from those advertisers priced out of TV. However, radio could also benefit directly if the manufacturers focus their incentives primarily on pickup trucks where country radio formats have proven highly effective for these models. This looks probable as LeNeve also told Reuters "he expects there to be more intense competition in the U.S. pickup truck market, where GM faces rivals such as Ford Motor Co (NYSE:F), Chrysler, and Toyota Motors (NYSE:TM), and a housing downturn that has torn into consumer demand for trucks." Not mentioned in the article is the impact rising gasoline prices have had on the generally less fuel-efficient truck sector.
If the automotive giants decide to wait it out in 2008 and focus their efforts into next year, it could also provide a badly needed catalyst for a period in the advertising cycle, that historically slows down following quadrennial political spending.
Investors should keep an eye on the automotive manufacturers and look for derivative plays in the television, radio and newspaper sectors that should see more immediate benefits from these incentive programs.