Zoran (NASDAQ:ZRAN), a developer and marketer of integrated circuit cores (ICs) and embedded software for DVDs, digital cameras, and set-top boxes, got nailed on Tuesday on the back of an analyst downgrade. A Deutsche Bank analyst cut his price target for the company down to $20. In lowering his rating on the chip industry analyst Arnab Chanda said:
While the stocks have declined dramatically in the fourth quarter and year to date, we do believe that for the vast majority of companies, the next six months is not likely to yield positive returns.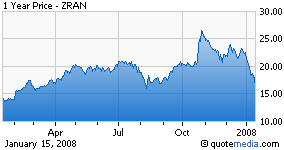 Well, I disagree. Yes, the stock has gotten hit. The shares are down 38% since the end of October, but he only decides to downgrade the stock now? Thanks for playing.
In one of the best named posts we have had here at the Israel Opportunity Investor, my colleague Zack Miller has a great analysis of all that's right with Zoran. One potential catalyst is that in February 2009, the U.S. will turn off analog TV broadcasts, forcing the conversion to digital TV.
In order to receive the new signals, the installed base of analog TVs will need to connect to an ATSC converter box. Congress has approved a coupon program such that each qualifying household will receive two $40 coupons to defray the cost of buying a converter box. Management estimates that the number of converter boxes sold ahead of the turnoff could reach 20-25 million units. Zoran typically sees a high-single digit dollar content off of these units.
At under $15 a share this looks like an interesting long-term play.
Disclosure: The author's fund has no position in any stock mentioned as of January 15, 2008.