Just when you thought that the corporate train wreck Overstock.com (NASDAQ:OSTK) had ceased its ability to amaze and delight: The company just announced that it had appointed a gent named James V. Joyce to be a director of the company. He replaces Jason Lindsey, who skeedaddled on Dec. 31, 2007 (more or less).
Joyce is a perfect choice for director as he is totally beholden to Overstock's loopy CEO Patrick Byrne, having been paid $615,000 in 2007 -- far more than ex-president Lindsey's 2006 compensation of $367,000 (his 2007 pay has not yet been disclosed). Joyce got that money for providing what Byrne described in the press release as "organizational consulting services," whatever that means.
Joyce is something of a mystery man as far as Overstock is concerned. His name has never surfaced before in Overstock filings, according to Edgar. He is described as CEO of something called Icent LLC, which does not turn up in Google (NASDAQ:GOOG) and is not recorded in Utah corporate records.
He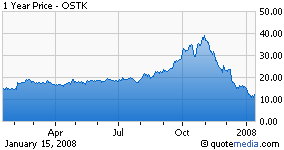 attended Dartmouth and Oxford, as did Byrne, which leads me to believe that they are probably more than just passing acquaintances. Nothing like an old chum to fill out a captive board of directors.
Byrne describes him in the press release as an "organizational consultant." What does an "organizational consultant" do, anyway? Isn't that why companies have presidents and boards of directors, in other words, people whose identities are disclosed to the public?
But anyway, yesterday was a happy day. Byrne gets another yes man for his board of directors, and the long-suffering shareholders of Overstock.com learn the identity of an "organizational consultant" who was paid more than their own president.