Annaly Capital Management (NYSE:NLY) remains a vibrant agency mortgage real estate investment trust (mREIT) with a current 13.60% annual dividend yield. A 13.60% yield simply crushes the 2.80% yield of a 30 Year Treasury Bond security as of May 18th.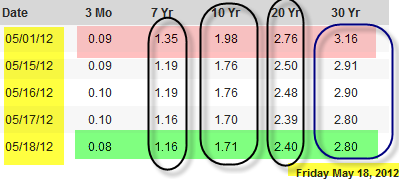 Treasury Yield Decline Impacts
Government Sponsored Entity (GSE) mortgage backed securities (MBS) closely track the Treasury Bond market. Agency mREITs, however, do not own Treasury securities. GSE MBS are instruments issued by the respective agency (e.g., Sallie Mae). Per the above table, investors can note the decrease in Treasury yields since May 1st, 2012.
Brief Overview
Annaly was formed in February 1997 as a Real Estate Investment Trust (REIT). The company invests in agency such as collateralized mortgage obligations and agency backed mortgage backed securities. As a qualified REIT, Annaly is not taxed on certain exempt portions of its income that it distributes as dividends to shareholders.
Annaly has numerous subsidiaries, one which is Chimera Investment Corporation for residential mortgages and Crexus Investment Corporation for commercial mortgages (NYSE:CXS).
Chimera Investment Corporation is a hybrid mREIT. This means the entity can choose to invest in agency backed MBS and non agency backed MBS. Over the life of its existence, Chimera has yielded a -22.4% return. I personally do not know anyone who has made money with Chimera shares.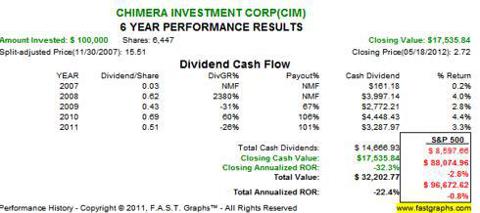 Annaly's mREIT business involves borrowing capital at a certain cost and investing that capital in suitable mortgage based securities to generate higher returns than its cost of capital. In addition, Annaly receives dividends from its subsidiaries and substantially distributes its profits to shareholders as dividends.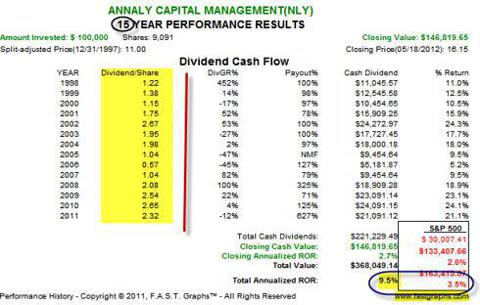 Business Strategy
Annaly has grown organically and through acquisitions such as Merganser and FIDAC. Annaly's charter requires at least 75% of its assets have either top investment grade ratings, U.S. government or agency guarantees. The remaining 25% of its holdings should at least have a BBB rating or higher (lowest investment grade per S&P) and Annaly may invest part of this 25% into equities, derivatives or other securities which are consistent with its REIT qualifications.
Annaly uses leverage to fund its earnings and its debt-to-equity ratio was 5.8:1 on March 31, 2012, slightly higher than the 5.4:1 leverage on December 31, 2011. Annaly raises capital through debt and equity markets and uses the proceeds to fund investments. Annaly and its subsidiaries also enter into interest-rate hedging transactions as insurance against market declines.

Annaly uses derivatives to hedge against interest rate changes and prepayments risks, and balances its portfolio to reduce volatility of investment returns. The quality of Annaly's credit ratings and balance sheet significantly impact its ability to cost-effectively raise debt and equity capital so Annaly strives to maintain a solid balance sheet.
Funding Update
In May 2012, Annaly announced plans to raise $1 billion in cash from two offerings - $250 million from the issuance of 11 million shares of 7.625% preferred stock and $750 million from the issuance of 5% convertible senior notes due 2015. Annaly's challenge will be to generate returns higher than its weighted average cost of capital in this low mortgage interest-rate environment where yields are low.
Financials
Annaly uses leverage to improve its shareholder returns and over the past year, its leverage has ranged from 5.4:1 to 6.3:1. Almost 90% of its portfolio consists of fixed rate agency mortgage backed securities (MNS), roughly 9% is adjustable-rate agency MBS and only a small fraction is in floating-rate securities. Annaly actively uses interest rate swaps to hedge its portfolio against interest rate changes and uncertainty, with swaps on approximately 40% of its portfolio.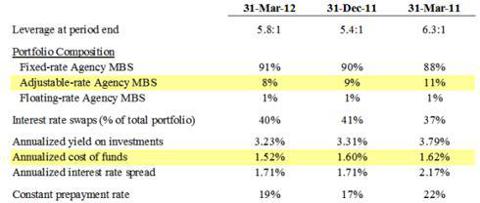 Annaly earns its profits from the difference (called the interest rate spread) between its yield on investments and its lower cost of funds. For Q1 2012, Annaly had an annualized interest rate spread of 1.71%, roughly the same as Q4 2011 but significantly lower than 2.17% in Q1 2011.
Prepayments are a risk to Annaly's earnings, and the prepayment rate on its portfolio increased quarter over quarter (q/q) from 17% to 19% but dropped from 22% a year ago.
In Q1 2012, Annaly earned total interest income of $854.9 million, about 1% more than Q4 2011 and 1.3% higher than Q1 2011. Its interest expenses, however, rose in the quarter and caused a decline in net interest income of 1% year over year.

Total other income includes gains and losses from investment sales and unrealized gains and losses from its interest-only investments, which together exhibit significant volatility, as the table above shows, and had a positive impact on earnings in Q1 2012. Net income available to common shareholders (after paying preferred dividends) almost doubled to $897.9 million in Q1 2012 from $441.4 million in Q4 2011, and was up 29% over Q1 2011. Earnings per share were $0.89, well above $0.44 in Q4 2011 and the same as Q1 2011 when the company had fewer shares outstanding.
At quarter end, Annaly held $932.8 million in cash and cash equivalents, $110.3 billion in agency MBS investments and $120.3 billion in total assets which were up 9.7% sequentially and 22.2% from the year ago quarter.

Annaly had $91.7 billion in repurchase agreements - low rate short-term debt to finance its investments - up 9% q/q and 15% y/y. At quarter end, its debt in the form of senior notes was down considerably and total shareholders stood at $15.9 billion, roughly in line with Q4 2011.
Dividends
For Q1 2012, Annaly reduced its quarterly dividend from $0.57 to $0.55 reflecting the impact of economic volatility on performance and earnings. This drop is Annaly's sixth consecutive drop in quarterly dividends and reflects the decreased leverage and net yield margin.

I have not viewed a comparison agency mREIT table where American Capital Agency Corp. (NASDAQ:AGNC) is not the number 1 performer. In the above table American Capital Agency offers a 16.1% yield over the past 3 years. CYS Investments (NYSE:CYS) is an agency mREIT and has yielded 15% over the past 3 years. Hatteras Financial (NYSE:HTS), an agency mREIT, has yielded 11.7% over the past 3 years.

Action
The best course of action is to invest in mREITs trading near or below book value per share. The dividends will be compressed due to yield compression. This, in turn, will increase the book value per share. As Gary Kain told me in an interview, his focus is upon the book value per share. On that account, Gary has excelled where others have failed. This sector offers mid teen yields. One must choose carefully and hedge if necessary.