In its most recent SEC filing, Microsoft (NASDAQ:MSFT) has acknowledged that it operates in a dynamic and highly competitive industry with frequently changing technologies, as well as business models. Of course, every time an industry shift happens, it brings with it the opportunity to create new products, new technologies and also fuel further paradigm shifts in business. Microsoft plans on driving its future growth by investing in areas such as smart connected devices, cloud computing (data centers and IT), Entertainment, Search and Communications &Productivity.
Capabilities of consumer electronics and computing devices (PCs, mobiles, etc. employing sophisticated software) continue to improve, while price per unit of computing parameters (parameters such as processing, storage, and networks) continues to decline. Users are constantly expecting to obtain information and entertainment related technology services through a wide range of devices (which essentially means the ability to connect to the internet, communicate with other devices and connect to cloud servers, and exploit the computing capability lying on cloud).
Some simple examples could include the ability to:
- To use your tablet PC to connect to cloud and run high utility software applications lying on cloud through paid/unpaid user accounts.
- To use your music player to connect to the internet or cloud and make your selection from an almost infinite music set, rate such music items, share with others, obtain usage stats on individual music items, artists, albums, and other related things.
- To seamlessly connect PC/tablet PC, mobile, and other commonly used computing or consumer electronics devices with each other through cloud and access common applications (internet social networks, emails/personal calendars).
To realize such possibilities, devices need to have advanced connectivity options; the supporting cloud infrastructure also needs to be in place. Microsoft intends to contribute to the creation of such cloud based ecosystems that intend to transform data centers and IT products and services. This is an integral component of its future growth strategy.
The cloud offerings of Bing, Windows Live, and Xbox Live are an indication of Microsoft's proliferation in the cloud direction. It is significantly investing in SW and HW platforms for products like Kinect, Windows phone, Windows Server and Xbox, and cloud infrastructure, platforms, and applications offerings such as Microsoft Dynamics Online, Microsoft SQL Azure, Office 365, Windows Azure, Windows Intune, and Windows Server. All these are clear indicators of the company's preparation and commitment to foster the nascent cloud computing market and become a dominant player once this market stabilizes. Undoubtedly, it is one of the most prominent thought leaders in this market.
In its effort to gain a dominant position in Entertainment, Microsoft is investing in Windows phone, Xbox, Xbox live and Skype. Its idea of delivering high quality entertainment experience includes offering games, movies, music, television, and social interactions with family, friends, and colleagues across as many devices as possible. Experts are predicting Skype to play a major role in taking Microsoft forward in this arena, as social networking (internet based interaction with friends and family) continues to emerge as a dominant force in the internet technology space.
Similarly, in the Search market, Microsoft is investing in products such as Bing, SharePoint, Windows, Windows Phone, and Xbox LIVE. With Bing, it has have done some commendable work in this extremely competitive market. In future, itintend to use advanced machine learning techniques to make the searched results much more meaningful to the user (an effort in this direction involves digging deeper into social networks such as Facebook and Twitter to show up info unlikely to be found on Google)
It was mentioned more than once in the company's earnings call that the CIOs of many prominent companies are focusing on improving the communications and productivity. This means that businesses are willing to upgrade their existing IT infrastructure (read upgrade or buy new HW or SW) to make more effective the communication between the employees of a business (which certainly contributes to improving productivity) and directly improve an employee's productivity by giving them a lot more IT horse-power.
The total estimated size of the cloud computing market is about $16.7B in 2013, and is expected to be $241B by 2020. Of the various segments in the cloud market, SaaS (software as a service) will continue to be the largest, most established and fastest growing segment. Microsoft is gearing up well to become a leading player in this market by significantly investing in cloud infrastructure, platforms, and applications.
Segment revenue and operating income (loss)
A 3-month ending March 31 (2011 and 2012), and 9-month ending March 31 (2011 and 2012) comparison of Microsoft's business segments is presented below:
Click to enlarge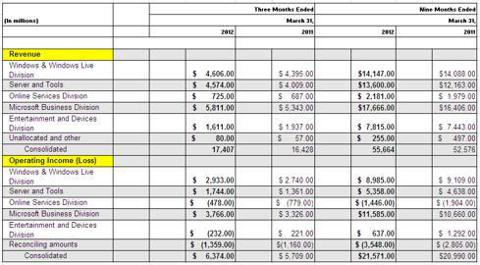 Looking at the 9-month as well as the 3-month data, we observe that revenue has improved in 2012 when compared to 2011 (the exception being the Entertainment and Devices Division). Given that Microsoft is moving towards one of its biggest product launch years (its product investment costs have been significant showing up as a dent in its present day divisional incomes; however, this should not be a concern at all). So, at this point in time things look alright.
Conclusion
Microsoft seems to be doing most things right to make forays into the cloud computing market (cloud versions of its products), mobile market (windows phone, windows 8 on both Intel and Arm processors), and of course strengthening its hold on existing business/accounts by bringing out the upgraded versions of its existing product suite. Currently, the stock is trading at $29.27, and appears to be a good buy.
Disclosure: I have no positions in any stocks mentioned, and no plans to initiate any positions within the next 72 hours.
Disclaimer: This article was written to provide investor information and education, and should not be construed as a guarantee or investment advice. I have no idea what your individual risk, time-horizon, and tax circumstances are: please seek the personal advice of a financial planner. This article uses third-party data, calculations and financial definitions, and may contain approximations and errors. Please check for the correctness of estimates, calculations and data before using them.