Heavily promoted companies often issue a flurry of fluffy press releases in order to keep investors excited in their companies. The announcement of a sales contract normally would not fall into such a classification, but sometimes when the company is truly questionable, it just might.
As the first part of a series on Great Wall Builders (OTCPK:GWBU), a company which appears to be the subject of the biggest email promotion campaign of 2012, I will illustrate that there are reasons to doubt the significance of a recently announced distribution contract.
Great Wall Builders markets itself as owning
the exclusive manufacturing and distribution rights to the Start Fuel Efficiency and Emission Device (FEED), an aftermarket device for internal combustion engines that enhances performance by causing fuel to combust more efficiently and completely.
Until May 18, 2012, it appeared that the company had no customers for its product, however on this date they released a piece of news that seems to indicates a major contract win. The press release regarding the contract stated:
Great Wall Builders, Ltd. is pleased to announce the appointment of NESS Tech GmbH as its exclusive agent for the European Union and other select European markets.

The five (5) year agreement calls for a minimum wholesale purchase of EUR8,000,000 in Start Fuel Efficiency and Emission Device units in the first year, with the requirement to increase the minimum purchase by 10% per annum in successive years.

The contract territory includes all the countries of the European Union with the exclusion of Italy, United Kingdom and Ireland.

The contract also includes the territories of Norway, Ukraine, Turkey, Croatia, Serbia, Bosnia Herzegovina, Montenegro, Macedonia, Albania and Kosovo.

Established in 2010, NESS Tech is an Austrian based company active in the energy saving sector. They have developed technology designed to reduce energy consumption from lighting systems in both commercial buildings and in residential settings. The efficiencies achieved are obtained without any drop in voltage, and do not affect the actual operation of the lighting systems in place.

The Company actively markets their products in Austria, and has a network of distributors in Germany, Poland, Turkey, France, and Romania.
Readers should note, NESS Tech GmbH is not the same company as Ness Technologies or as Ness Wärmetechnik GmbH, a German company. As of today, a Google search for "NESS Tech GmbH" delivers many results. Upon closer examination, it appears that these results are almost exclusively links to news release from GWBU about the distribution contract. Thankfully, Google has a search function which allows users to filter results based a time period; this is useful when one wants a picture of how search results would have looked like in the past.
When one does a Google search for results prior to the announcement by GWBU, i.e. before May 18, 2011, the results are sobering. Other than some copies of the press release that seem to have made their way into the results anyway, there are only 3 results in the search for "NESS Tech GmbH", all of which appear to be directory websites, none of which constitute a corporate website for the company or any other third-party coverage of the company. Taking a look at 2 of the sites here and here indicates that the corporate website for the company is www.ness-tech.at while none of the directory sites even list a phone number for NESS Tech GmbH.
Upon examination, the company's corporate website appears to be a redirect from another page www.silvia-wipplinger.at; more importantly, it also appears to be no more than a splash page indicating that the URL has been reserved. I have linked to the Google cache version which currently shows the website as of May 16, 2012, in order to avoid the potential for the company to quickly throw together a website in response to my allegations, but at this point in time, the website www.ness-tech.at itself is displaying the same splash page. Below is a screenshot of the result: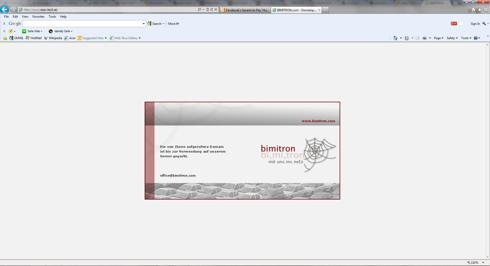 Readers should ask themselves, is it truly plausible that a company involved in the high-tech energy saving sector, with a multi-country presence and with the financial capability to enter into a legitimate and binding contract to purchase 8 million euros/year of equipment does not even have a functioning corporate website? Is it likely that a company of such significance and financial resources would have absolutely no mentions whatsoever by any other third-party, be it a customer review, blog or any other type of online media?
Without even listing a phone number online, how exactly are prospective customers supposed to contact this company for business purposes? The fact that the only records of this company's existence on the web prior to the announcement by GWBU seems to be a few directories with minimal information seems highly suspect and should cast significant doubt on this company's actual ability to fulfill the contract publicized by GWBU.
Prospective or existing investors should view GWBU's recently announced distribution contract with skepticism. NESS Tech GmbH's almost complete lack of any online presence, coupled with the lack of a corporate website is highly suspicious. It seems probable that this is simply a contract with a ghost company which may never actually be fulfilled.
In the next part of this series, I will examine Great Wall Builders itself, illuminating the company's corporate history, the dubious circumstances surrounding the acquisition of its core technology, the recent frenzied campaign of paid promotion for GWBU's stock, the company's current business activities and assets and why the stock likely has more than 90% downside.
Disclosure: I am short GWBU.OB. I receive no compensation to write about any specific stock, sector or theme.