By Ryan Fitzwater
It's not a pretty business picking up the trash, but some one has to do it. And at the end of the day, it's good business. In the United States alone, we create more than 250 million tons of trash every year. And more than half of our waste ends up in landfills. With populations continuing to grow and consume more and more every year, we're producing more trash than ever before. This is good news for companies involved in the $52-billion waste management industry, as they're turning more trash into more profits. Profits that many then pass along to stockholders through dividends.
The Kings of Trash
While you might think that big money is made in the service side (literally picking up trash), it's actually found on the ownership side. Not ownership of the trash itself, but of the land used to store it. Owners of landfills that have a large amount of space left for trash (also known as airspace), have an advantage in the waste disposal business. An advantage that lets them collect big returns on what people throw out everyday.
The top tickers involved in the landfill business, or what I call the "Three Kings of Trash," are Waste Connections (NYSE: WCN), Republic Services (NYSE: RSG) and Waste Management (NYSE: WM).
I tend to like sectors that have a strong advantage in down markets, and waste management is one of them. You can still collect quality dividends while everything else is tanking. The landfill industry was very resilient through the recent financial crises. While revenue growth stalled during the downturn, companies were still able to create strong cash flow and defend their dividends.
Many dividend payers in other industries were freezing or cutting their dividends through the financial crises, while Republic Services and Waste Management continued to grow theirs. (Waste Connections, the youngest company of the three, didn't start paying a dividend until 2010.) And the "Three Kings of Trash" truly have an advantage over competitors (or would be competitors). They have extensive experience in working regulatory hurdles.
Squeezing Out the Competition
I'm sure any CEO in the waste management business would be able to list countless unnecessary regulations that hurt their business. But extensive regulations also give the established players a big advantage. The landfill industry is highly regulated. It entails constant investment to remain compliant.
Growing environmental regulations have made it more and more costly to operate and own landfills. It requires large amounts of capital to construct, organize and monitor sites. And permits today require 30 years of environmental monitoring after a landfill closes. This is a major financial commitment that has to be planned well in advance. The final price tag on a landfill… about $1 million per acre to construct, operate and finally close in ordinance with regulations.
With the amount of capital required to operate landfills coupled with a dumpster of regulations, new players in the game have a tough time breaking into the market and finding their feet. That's why industry revenue is driven to the established kings of the industry, while smaller competitors sit on the sidelines.
Taking Out the Trash
Let's take a look at the chart below to help decide which of the Three Kings of Trash stand to benefit investors the most: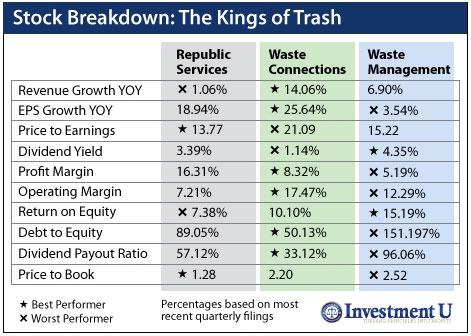 Based on the chart above, I'd be more inclined to pick up shares of Waste Connections first and then Republic Services - leaving Waste Management out on the curb. While Waste Management does have the highest dividend yield and return on equity (something all investors should consider when researching a stock) it clearly has some other issues that raise a red flag.
First, it has a high debt-to-equity ratio of 151.97%. This means that creditors currently have more money in the company than stockholders have. Not a good sign. Second it has a high dividend payout ratio of 96.06%. And yes, some can argue that they prefer companies with a higher dividend payout ratio since it means investors are receiving a higher amount of earnings. But I tend to agree with Investment U income expert Marc Lichtenfeld. A payout ratio (preferably based on cash flow rather than earnings) of 75% or less means a company can reinvest its cash back into the business to fuel future growth. Not to mention as the payout ratio approaches 100%, it signals that the dividend payments are in jeopardy of being cut.
Waste Management also has the lowest operating and profit margins of the three kings. And it has the highest price-to-book ratio of 2.52. The other kings sit at much more attractive levels of 1.28 and 2.20. And Waste Management only grew earnings 3.54% year-over-year in its latest quarter, while Republic Services and Waste Connections both had earnings growth in the double digits.
Of course those who are interested in the best yielding stock can still consider Waste Management. Over the past five years it has grown its dividend 8.85%. But once again, it placed below its competitor Republic Services, which grew its dividend 15.78% over the same period of time.
Our stock breakdown winner, Waste Connections, has only been paying its dividend since 2010, so we can't calculate a five-year dividend growth rate. And it does have the lowest yield of 1.14%. But it has a one-year dividend growth rate of 53.33% and will likely continue to grow its dividend in the future.
Get Your Fill of Landfills
Investors should consider exposing themselves to the landfill market. It's one that should continue to offer steady cash flow and dividends as our trash piles up, even in a down market. And as I mentioned above, the three kings have established operations and hold higher ground over smaller players.
I would just be more inclined to pick up share of Waste Connections or Republic Services over Waste Management. I believe they have more room to grow their bottom lines and their dividends in the future.
Disclosure: Investment U expressly forbids its writers from having a financial interest in any security they recommend to our subscribers. All employees and agents of Investment U (and affiliated companies) must wait 24 hours after an initial trade recommendation is published on online - or 72 hours after a direct mail publication is sent - before acting on that recommendation.