Shares of the largest mortgage insurers, MGIC Corp (NYSE:MTG), Radian Group (NYSE:RDN), and Genworth Financial (NYSE:GNW) have all lost about half their value over the past three months.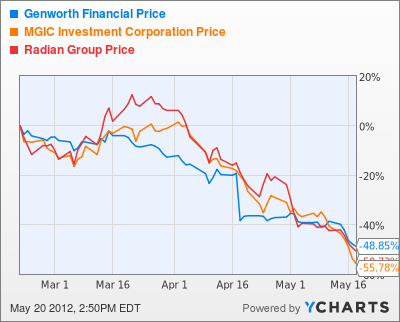 Reasons For The Decline
While these concerns are all valid, the valuation of these companies is still compelling.
Price To Book
GNW: 0.17
MTG: 0.42
RDN: 0.27
Wall Street is also betting heavily against both MTG & RDN .
Short Interest
If any positive news comes out, it is likely that these stocks will launch higher as shorts look to cover.
Conclusion
While the sharp decline in this sector over the past three months has been massive, the fundamentals are not strong enough to get behind these stocks even at these levels. Clearly, these companies have not benefited as much from the improving housing market as some investors had hoped. That being said, because of the valuation, it does not make sense to sell these stocks at these levels either. I believe the best way to play these stocks is to wait and see how the next couple quarters play out before making a decision.
Disclosure: I have no positions in any stocks mentioned, and no plans to initiate any positions within the next 72 hours.