TD Newcrest analyst Greg Shaw resumed his coverage on Penn West Energy Trust (NYSE:PWE) Tuesday, telling clients the company's recent merger with Canetic Resources Trust (CNE) should be a long-term positive for unitholders.
His list of merger benefits include the Safe Harbour equity issue capacity of C$15-billion, which provides opportunity for international acquisitions and the tax pools of C$5.5-billion that will place Penn West in an efficient tax position post 2010.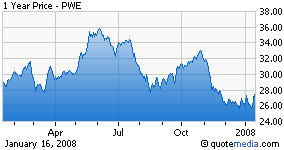 Mr. Shaw said the company will also benefit from a stronger presence in the WCSB and from improved liquidity and access to capital.
On the flip side, the analyst notes the merger is slightly negative to Penn West's net asset value and annual natural production is expected to decline by 20%, or approximately 42,000 barrels of oil per day. As well, the company must deal with integration challenges and operational concerns at Seal.
But ultimately, Mr. Shaw believes the pros outweigh the cons.
"While operationally Penn West has struggled at Seal and CO2 development of Pembina is progressing slowly, the trust remains well positioned with respect to large resource plays that have been enhanced with the merger," Mr. Shaw said in a note to clients.
And with shares trading at 75% of its net asset value compared with the group average of 98%, the analyst says Penn West offers unitholders a solid opportunity going forward, rating units a "buy" with a target price to C$31.