Beijing finds itself in a tough predicament, with $1.53 trillion of foreign exchange reserves over the past five years, mostly stockpiled in depreciating US dollars. However, Chinese leaders finally woke up to the folly of such a foolish investment policy. "The world's currency structure has changed," declared Xu Jian, vice director of the People's Bank of China (PBoC) on Nov 7th.
"The US dollar is losing its status as the world reserve currency," he warned. "We will favor stronger currencies over weaker ones, and will readjust accordingly," added Cheng Siwei, vice chairman of China's National People's Congress. On Dec 27th, Hu Xiaolian, director of China's Foreign Exchange department, wrote, "If the US federal funds rate continues to fall, this will certainly have a harmful effect on the US dollar exchange rate and the international currency system," he said.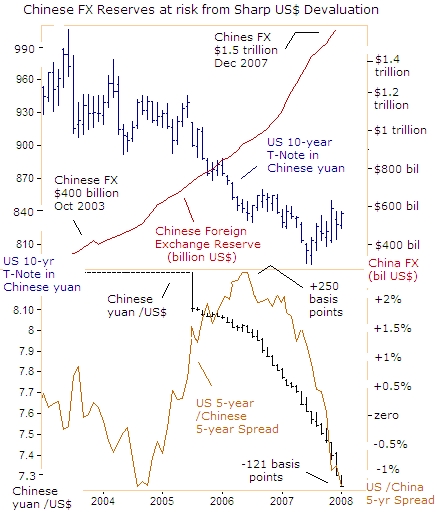 Traders closely watch any change in China's strategy which could affect exchange rates. China's central bank is tightening its monetary policy to combat inflation, which is raging ahead at a 6.5% annualized rate. At the same time, the Bernanke Fed is preparing to flood global money markets with another tidal wave of cheaper US$'s. China raised benchmark interest rate six times in 2007, but the benchmark one-year deposit rate of 4.14% is still far lower than the inflation rate.
"We must be sure about one thing, the central bank is moving towards the objective of positive real interest rate instead of moving away from it, "said Yu Yongding, a key advisor to the PBoC, on Janaury 3rd. The next day, the PBoC vowed to further tighten monetary policy in 2008, aiming in particular to prevent inflation from moving from certain sectors to the broader economy.
A year ago, the US Treasury's 5-year T-note was yielding +2% more than China's 5-year note. But today, the US T-note yields -1.2% less, putting enormous downward pressure on the US$ /Chinese yuan, and cementing big foreign currency losses in Beijing's portfolio of US bonds. According to forward traders in Hong Kong, the dollar is expected to fall another 9% to 6.6-yuan over the next 12-months.
Since March 2006, China has been a net seller of US Treasury debt, reducing its exposure from $421 billion to $386.7 billion in November, and seeking to avoid further losses on the dollar's exchange rate with the yuan. "The weakening dollar and rising global commodity prices is also creating inflationary pressures for China, but a quicker appreciation of the yuan would probably help offset some of those price increases," said Yao Jingyuan, chief economist of the state statistics agency.
On Jan 16th, the PBOC hiked bank reserve requirements by 0.50% to a record 15%, a move that will drain 200 billion yuan ($28 billion) from the Shanghai money markets. The dollar fell to 7.23 yuan, or -3.2% lower since late October, a faster decline than the -1.2% slide in the US Dollar Index over same period, meaning the yuan is rising at an even faster pace against a basket of six major global currencies, including the Euro, British pound, and Canadian dollar.
European Central Bank Won't Dance with the Fed
The Bernanke Fed is playing Russian roulette with the US dollar, reckoning that other central banks will eventually join its money printing orgy, to prevent their currencies from rising sharply higher against the greenback. But ECB chief Jean "Tricky" Trichet has flatly ruled out any Euro rate cuts in the months ahead, arguing that inflation is a major threat faced by the Euro zone.
On Jan 10th, Trichet was asked whether it was correct to say the ECB had a bias to tighten rates, "We are certainly not neutral," warning the ECB is not prepared to tolerate a wage-price spiral triggered by higher food and oil prices. Speaking on French television on January 14th, Trichet rebuffed suggestions by French government officials, that the ECB should pay more attention to stimulating growth, like the Federal Reserve, rather than focusing on keeping inflation under control.
"There is not one European to say that now is the moment to be particularly lax in the matter of fighting inflation," Trichet declared. ECB member Michael Bonello backed his new boss, "The bank remains prepared to act to insure that the upside risks to price stability, which are clearly mounting at the moment, do not materialize," he said. Austrian central bank chief Klaus Liebscher added, "We have clear upward risks from inflation, $95 per barrel of oil and dramatic food price increases. On top of this, we could see second round effects," he said.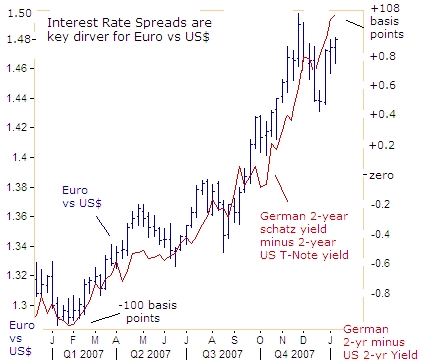 Compared to the reckless amateurs at the Federal Reserve, ECB officials are sounding more responsible and like stalwart guardians of the Euro's purchasing power. But one must also keep in mind, that the ECB is inflating its M3 money supply at a record 12.3% annual rate. In doing so, the ECB has been a major accomplice to the historic rally in food and energy prices over the past few years.
The ECB is now warning Euro zone workers to avoid asking for higher wages, which they seek to compensate for the inflation that was created by the central bank itself. "Wages must not seek to catch up with prices to compensate for a weakening in purchasing power following this price rise," warned Italy's central bank chief Bini Smaghi on Jan 14th. "Otherwise inflation might not go down and at that point there won't be any other solution than a monetary tightening," he said.
On January 15th, Bundesbank chief Axel Weber said there were signs that wage pressure and inflation expectations were starting to drift up. "The currently noticeable higher rates of inflation in Germany and the Euro area overall should not be the yardstick for upcoming wage negotiations. We are observing current developments very carefully and, if needed, action will follow our words."
Around 2 million German public sector workers are seeking an 8% increase in wage talks which began last week, while German train drivers have already secured an 11% raise. German union bosses are calling the ECB's bluff, figuring the central bank does not have the green light from government finance officials for a rate hike, given the severity of the credit crunch in the Euro Libor markets.