YouTube.com continued to lead the field of video contenders in December, commanding 52.3% market share with 238 million visits on 59 million unique visitors, up 6.1% from November and 40% since December, 2006. The overall online video market, which consists of Compete's classification of over 50 sites and subdomains serving video to U.S.-based visitors, grew 7.4% for the month.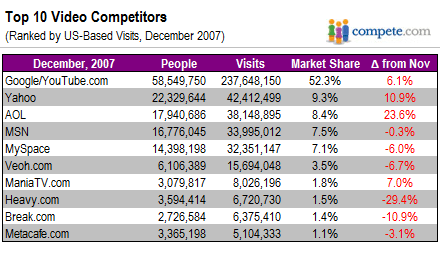 Meanwhile, jostling among the portals continued in the mid-field, with Yahoo!, AOL and MSN trading places for the 4th time in as many months.
MySpace lost 6% video market share and slid to 5th place for the first time ever. A year ago, MySpace held 2nd place among video contenders, with 19% market share.
Back in 2006, many credited MySpace with fueling YouTube's meteoric rise. The social networking giant hosted and referred millions of videos and visitors to the video sharing juggernaut. Look for YouTube to overtake MySpace in 2008.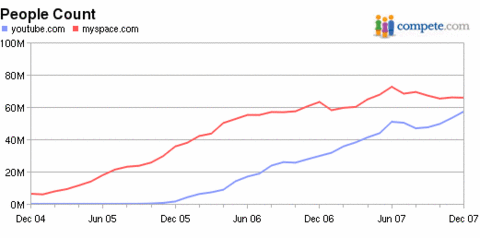 Veoh.com continued to lead the back of the pack with 16 million visits on 6 million visitors, down 6.7% in December, but up an astonishing 2,451.3% for the year.
As I previously noted, Veoh.com leads the field in terms of engagement, with long-form videos capturing visitors' attention for 15.5 minutes per visit. The only other competitor to reach this level of engagement in 2007 was YouTube, with 17 minutes per visit.image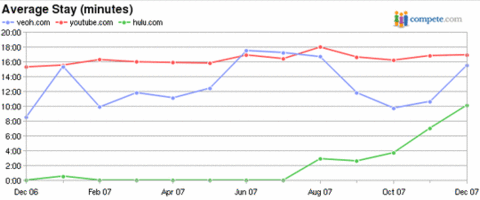 Veoh.com recently announced it will be adding more videos from traditional TV networks, including Hulu.com, the NBC-Fox joint venture. Hulu, though still in private beta, has shot up to 250,000 visitors in just 5 months. Though probably not significant due to just starting out, Hulu also approached engagement levels seen at Veoh and YouTube.
Rounding out the pack, Heavy.com sustained one of the biggest losses of the month, coming down 34.9% for 2007. Meanwhile Metacafe.com posted respectable gains, up 113.5% for the year.