The rebirth of the secular bull market of commodities beginning in 2000 can be mainly contributed, first, to the cresting and eventual decline of the U.S. dollar and, second, the mounting economic expansion of China and India. Combined, these two forces have propelled raw material prices into a long-term uptrend.
The current extended rise in natural resources is best measured against a broad equity market. In the chart below, the Commodity Research Bureau Index [CRB] and the S&P 500 are compared for performance over the past 12 years.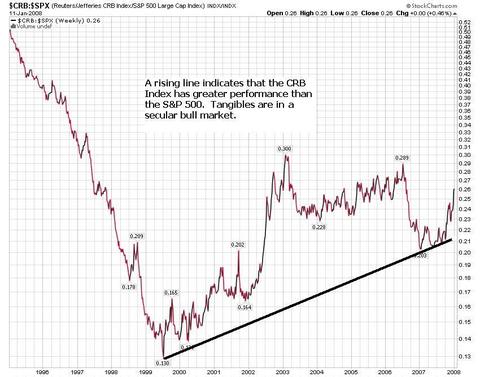 During most of the 1980s and all of the 1990s, paper-based equities (S&P 500) greatly outperformed raw materials [CRB]. However, beginning in 2000, the shift in leadership moved away from basic industry and swung toward commodities and their related indexes (Brazil, Australia and Mexico). These securities quickly become some of the top performing investments. Chart 1 displays that the CRB Index has lead the paper-based S&P 500 in relative performance for eight years and is showing no signs of weakness. Two of the best performing commodities has been gold and oil. Both have advanced over 300% since 2002.
The rise in gold (see chart below) from below $300 to over $900 in six years can be greatly contributed to the on-going bear market in the U.S. currency.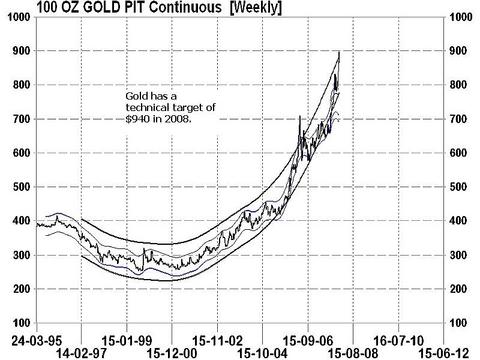 The fundamentally distressed dollar continues to break support levels month-after-month which drives up the yellow metal to price levels not seen in 30 years. Technical models currently suggest the run in gold is not over. This precious metal has a short-term target of $940 by the second quarter of 2008 and considerably higher by 2009. Conversily, the rise in gold indicates the U.S. dollar is expected to fall further below present levels. The technical target for the Greenback is $0.724.
Explosive growth over the past four years for oil, the most heaviest traded commodity, is largely due to a repricing of an increasingly scarce natural resource. As global supply stagnates among an increasing wave of consumer demand, the pricing of this very essential commodity (see chart below) can only travel in one direction over the next few years; up. Technical models project increasing upward pressure into 2008 with a target price of $108.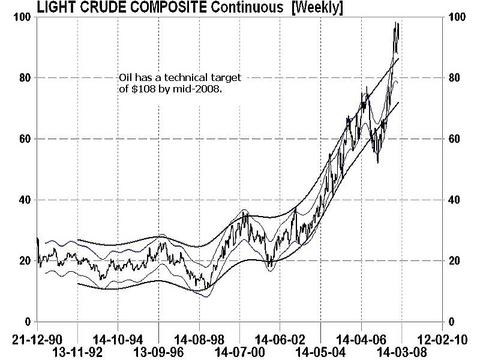 Bottom line: Bull markets in commodities historically run for 14 to 21 years. As this market has started in 2000, upward growth can be expected for another six years or more.
Investment approach: As the secular bull market in commodities shows no indications of weakening and long-term performance still favours raw materials over the S&P 500, growth portfolios should continue to be overweighted in tangibles and underweighted in paper-based industries.