I have been expecting a near-term bottom in the market. I am not so sure now.
A near-term bottom may be at hand, but the market action this week has been terrible. Rather than stocks absorbing bad news, bad news is being sold, and hard. Citigroup (NYSE:C) rocks the market. Retail sales hammers the market. Intel (NASDAQ:INTC) smacks the market. Even with the market being so very oversold on Wednesday, and a mid-day rally that possibly signaled a bottom, stocks could not hold.
We did get a rally in some very hard hit stocks, such as financials, retail and some tech. Previous winners, such as ag, were taken out and shot. Perhaps the reversals are indicative of a near-term bottom forming, as the winners need to get whacked before the bottom is in place, but I'm not sticking around. The rally in the dogs is most likely a dead-cat bounce before the downward pressure resumes.
We are in a bear market, and I was being too cute liquidating a portion of my shorts to take a trading long position last week. I was wrong, or at least what I was looking for did not materialize, so I unwound the long position, and took a small loss. It's best to be wrong small than wrong big. I did not re-establish the corresponding short position, but once again, I am net short stocks. I will increase my short position on any strength.
Investors are playing Whack-a-Mole with equities, banging the market down every time it lifts its head up. At these levels, the market could just as easily crack heavily on the downside as it could bounce.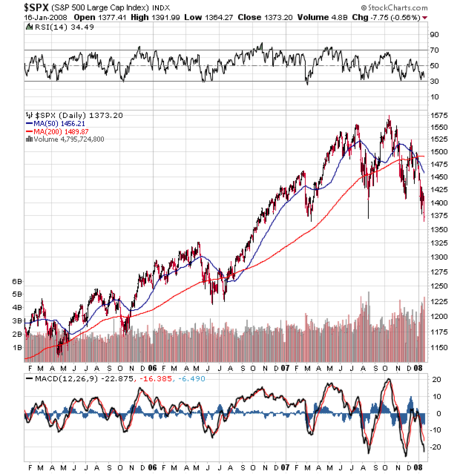 My preference would be for the market to rally so I can get heavily short again.
There are rumors are that a large, well-known hedge fund is liquidating several billion dollars. The hedge fund is not going under - it has many more billions of assets under management - but it could explain the intense selling as of late. These rumors are always floating around, and I have no idea if it is true or not, but that is what I heard on Tuesday.
For anything other than the long-term, the only positions to have in a bear market are either sitting on the sidelines in cash or short. That is where I am.