By David Whiston, CFA, CPA, CFE
We believe current U.S. light-vehicle sales are far below where they should be, and assuming no further supply constraints, we are very optimistic about the U.S. auto industry for the next several years. We believe General Motors (NYSE:GM) and Ford Motor Company (NYSE:F) are still incredibly cheap and auto-dimming mirror maker Gentex (NASDAQ:GNTX) is a way to play the recovery without the worry of large legacy obligations.
We think it's critical to first understand just how bad sales were a few years ago. Exhibit 1 shows U.S. light-vehicle sales since 1951 (shaded bars denote recession years). Sales bottomed out in 2009 at only 10.43 million vehicles, quite a decline from the decade's high of 17.35 million in 2000. The last time sales were close to 10.43 million was 1982's 10.36 million.
Exhibit 1: Total U.S. New Light-Vehicle Sales (1951-2011)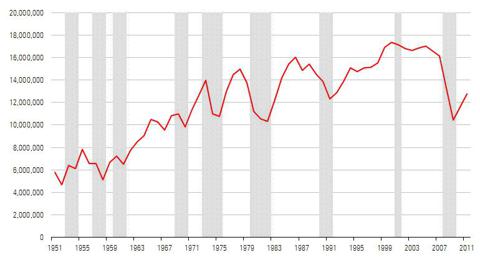 Source: Automotive News, Bureau of Economic Analysis, Center for Automotive Research, NADA Data, National Bureau of Economic Research, Morningstar Equity Research.
Graphing the data on a per capita basis in Exhibit 2--both relative to the number of licensed drivers and the total population--reveals that 2009's results were even worse than the early 1980s.
Exhibit 2: U.S. New Light-Vehicle Sales Per Capita (1951-2011)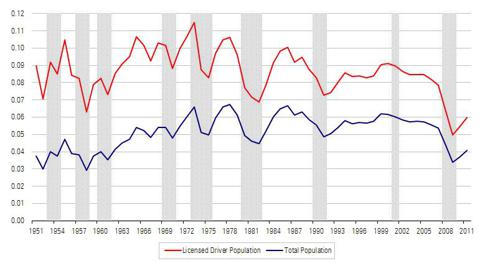 Source: Automotive News, Bureau of Economic Analysis, Census Bureau, Center for Automotive Research, Federal Highway Administration, Federal Reserve Bank of St. Louis, NADA Data, National Bureau of Economic Research, Morningstar Equity Research.
Dividing 2009 sales by our estimate of the total number of licensed drivers (about 209.6 million) gives a per capita sales ratio of 0.050--the lowest mark dating back through 1951. The ratio was 0.069 in 1982, and the next lowest ratio after that was all the way back in 1958, at 0.063. With the recession sales pace worse than when the country had 61% fewer drivers on the road in the late 1950s, we think it is reasonable to expect a strong sales recovery over the next few years. In 2009 and 2010, the United States scrapped more vehicles than it sold, which had not happened since World War II.
Data from R.L. Polk indicates that the scrappage rate declined to about 5% in 2011 from 5.5% in 2010, and the total U.S. vehicle fleet actually increased to 240.5 million from 240.0 million. Thus, we now estimate the replacement rate of demand at about 12 million vehicles (240.5 million x 5%). On its Jan. 4 monthly sales call, Ford cited data that indicated as of mid-2011 nearly 50 million vehicles in the U.S. are 11-15 years old. With more than 20% of the fleet near scrappage age and the fleet at a record average age of 10.8 years, we think it is very reasonable to expect a strong recovery in auto sales beyond what we have already seen--especially if the "want" buyer returns to the showroom this year. With tremendous pent-up demand, improving inventory, and terrific new product coming (such as the 2013 Ford Fusion and Toyota's (NYSE:TM) releasing 19 new or refreshed models this year), we see far more reasons to be optimistic than pessimistic about auto sales. The data also support this claim. The SAAR, or seasonally adjusted annualized selling rate, was about 13.6 million in November and December, then jumped considerably in January to 14.2 million; February's 15.1 million was the best SAAR of any month since February 2008.
We were encouraged to see about 74% of the year-over-year growth in the top seven automakers' February sales come from the retail channel, as opposed to just 48% in January. March sales also came in strong with a 14.4 million SAAR, and the results caused AutoNation (NYSE:AN) CEO Mike Jackson to raise his 2012 sales forecast to the "mid-14 million" range from 14 million. Jackson's predictions usually are accurate, so when he is bullish on sales, we think investors should pay attention. Other automakers such as GM have recently raised their 2012 U.S. industry sales predictions. April's SAAR was solid as well, at 14.4 million. The current vehicle fleet is very old, used-vehicle prices have been at record highs for some time (see Exhibit 3), and automaker finance arms are offering attractive lease deals on new vehicles. All of these factors suggest there are many compelling reasons to expect continued increases in new-vehicle sales.
Exhibit 3: Manheim Used-Vehicle Value Index (January 1995=100)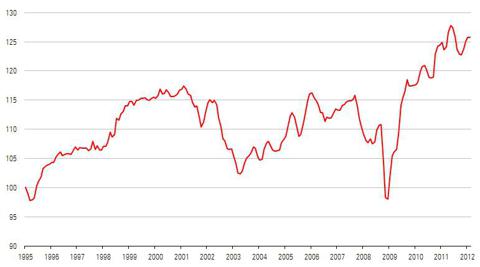 Source: Manheim Consulting, Morningstar Equity Research
Looking at our auto sales and total population data and multiplying the 2011 U.S. population by the average sales per capita for 1951-2011 gives a mean reversion sales total of nearly 16.1 million vehicles. Another proxy of normative demand would be the same multiplication using a more recent per capita sales average. For example, using the per capita average from 1976 to 2011 implies normative demand of 17.32 million vehicles. Pent-up demand could mean some very strong years are coming for the U.S. auto industry. If one assumes a conservative normal annual demand level of 16.0 million and then adds up the annual difference since 2008 between actual sales and 16.0 million, the pent-up demand number comes to 15.95 million vehicles. For 2012, we continue to predict a range of 13.8 million-14.2 million, but we think the odds of results beating our high-end estimate are increasingly likely. GM raised its 2012 light-vehicle forecast on May 1 to 14.0 million-14.5 million from 13.5 million-14.0 million while Ford raised its forecast on April 4 to 14.2 million-14.7 million from 13.2 million-14.2 million (we've backed out an assumed 300,000 units on each end because Ford included heavy trucks). Toyota raised its forecast on April 4 to a range of low to mid-14 million from 13.6 million. Bob Carter, general manager of the Toyota division at Toyota Motor Sales USA, told Bloomberg at the New York Auto Show that the market is moving "quicker than anyone thought." We think investing in the auto industry becomes even more attractive once investors combine this top-down story with the dramatic, yet still misunderstood, bottom-up story at GM and Ford.
Lots of Scale Still Coming to GM and Ford
GM is a global company, but the U.S. is still its most critical market for profitability since GM North America contributes the vast majority of earnings before interest and taxes, as defined by GM ($7.2 billion out of a total $8.3 billion in 2011). Thanks to closing some plants, transferring United Auto Workers retiree health care to the UAW's voluntary employees' beneficiary association, reducing North American brands by half, and other restructuring, management thinks GMNA can break even at an industry SAAR of 10.5 million with GM holding 18%-19% share. This is an incredible contrast to old GMNA, which in the third quarter of 2007 had a break-even level of 15.5 million SAAR with at least 25% share required. Now that the break-even point is 1.5 million units below replacement demand, GM can simply produce to meet demand, which preserves residual values.
The previous model forced old GM to overproduce just to try to keep market share to preserve scale. This led to old GM's collapse when gas spiked in 2008. New GM makes vehicles in all segments that people desire for motivations beyond a cheap sticker. Old GM made ugly small cars such as the Chevrolet Cavalier and Cadillac Cimarron because it could not afford to make a viable competitor to the Corolla or Civic. It then made up the loss in small cars with highly profitable pickups and sport-utility vehicles. GM now is very healthy with a strong balance sheet and plenty of cash to fund legacy obligations, so it can continue to invest in research and development and be profitable at all points of the economic cycle rather than just the high point. Most important, however, is that if an investor believes our top-down argument on where U.S. light-vehicle sales are going, then it is clear that GM is going to be printing money over the next few years. Thus we think GM's current multiples of about 5 times 2013 consensus (2.8 times excluding $9.38 per share of net cash) and enterprise value/trailing-12-month EBITDA of just 1.3 times are ridiculous. We think these multiples are likely to rise when government ownership finally ceases, the pension deficit declines, and the company's earnings grow.
Excluding Europe, we look for GM's results to keep improving through 2013. GM is not done restructuring its operations despite the bankruptcy, so recent results are not indicative of its full potential, in our opinion. GM still has to roll out many new models all over the world, and more cost savings will come from expanding the use of global vehicle architectures to 90% of production by 2018, up from 50% last year and 17% in 2010. Key product holes are being filled this year by Cadillac rejoining the compact segment with the ATS sedan, and next year by the long overdue rollouts of the next-generation, full-size Chevrolet Impala and, most important, the new generation of highly profitable full-size pickups. Another noteworthy change is GM's March announcement of a global advertising agency for Chevrolet. The company previously used 70 agencies all over the world; centralization is expected to save $2 billion over the next five years.
However, we expect GM Europe to remain a disaster for at least a few more years. The 7% stake in Peugeot is not sufficient to fix the business by management's own admission, and the unions in Europe seem more militant than the UAW, so we do not expect a rapid turnaround from Opel and Vauxhall. Conversely, we expect more contribution from GM South America as it introduces seven new models this year. GMSA's product lineup was horribly stale thanks to the bankruptcy; Chinese firms seized the opportunity to enter the market, likely creating long-term pricing pressure concerns for all players. New product should demand a small premium, but again, we expect GM's major profit driver to move the stock will come from North America. Meanwhile in China, GM continues to be many years ahead of most competitors. Equity income (mostly China joint ventures) excluding special items was $1.6 billion at GM in 2011 versus $479 million at Ford. In fact, GM recently had its best ever quarter in China, increasing unit sales 8.7% year over year to 745,152.
Similar Story at Ford but With Less Overhang
The top-down story above also benefits Ford, as the company generated $6.2 billion of its $6.3 billion in 2011 automotive pretax income from North America. Ford stock's major company-specific overhang is the dual share class structure that allows the Ford family to maintain 40% voting rights. Ford projects its model refresh rate to be the highest of any major automaker, and it is ahead of GM in product development in several segments: The subcompact Fiesta began selling in North America in mid-2010, about a year ahead of the Chevrolet Sonic; the new full-size Taurus came out in mid-2009 while the Chevrolet Impala's long-overdue update goes on sale next year; and the newest generation of Ford's F-Series pickup went on sale in late 2008 (and had a major engine refresh in early 2011) compared with late 2006 production for the Chevrolet Silverado under GM's GMT 900 platform. GM's next-generation truck platform goes on sale next year.
Ford president and CEO Alan Mulally was smart to recognize the need for greater scale via more global vehicle platforms back in 2006. Ford expects to have 85% of its vehicles on nine core platforms by 2013, and higher-volume segments such as subcompact, compact, and midsize will be 100% made on global platforms by 2013. This new global scale will gradually flow to other segments such as the midsize 2013 Fusion (Mondeo in Europe) due out this fall in the U.S. and early next year in Europe. These global platforms alone should account for more than 70% of Ford's mid-decade global sales volume target of about 8 million units.
Ford also now produces only to meet demand and is using fewer incentives than GM. This change means it gets better pricing than before the recession, which offsets unfavorable mix changes from smaller vehicles, higher commodity costs, and higher structural costs. In 2011, improvements from pricing and volume contributed $6.3 billion to automotive pretax income, which more than offset the $5.5 billion negative contribution from higher commodity, material, and overhead costs. Ford is ahead of GM in profitability thanks to Mulally's embracing common platforms. Using Morningstar's definition of operating income (revenue less costs of sales, selling, general, and administrative expenses, and other operating expenses), 2011 automotive operating margins at Ford were 4.8% versus 3.7% at GM while automotive free cash flow at Ford was 4% of revenue compared with 0.8% at GM. Ford's March sales were also quite strong--the firm's best March in five years and worth a closer look. Fusion had its best month ever, and the F-Series pickup also had its best March since 2007 despite high gas prices. Ford's retail sales increased 11% year over year, and the new compact Focus increased its retail volume in California by nearly 200%. We find it very encouraging that both the new Fiesta and Focus have done very well in California, as that is the country's largest market and is the home of many customers loyal to Japanese brands. In late 2010, Ford management said the higher-end trim package of the Fiesta subcompact was selling better than expected. These facts confirm our opinion that as long as the product is desirable, Americans are willing to pay more for small cars that they really want to buy as opposed to ones they buy simply because the vehicle is cheaper than a Toyota or Honda (NYSE:HMC). That latter way was the old Detroit, and the old Detroit is gone.
Gentex Is Cheap and Has Less Baggage
We realize some investors will not consider GM and Ford because of their legacy obligations, lack of economic moat, and unique governance structures. In that case, we think narrow-moat, mid-cap, auto-dimming mirror maker Gentex is an excellent way to play the top-down auto recovery without worrying about pensions, unions, and large temporary owners. Gentex is an outstanding company and by far one of the best auto parts suppliers in the world. Its top-line compound annual growth rate since 1987 is a very strong 19.7%, and the company is slowly branching into new applications, most notably supplying all the auto-dimming passenger windows on the Boeing 787 via a partnership with PPG Aerospace. It holds nearly 88% market share in auto-dimming mirrors, and its share has actually been increasing over time. The firm's biggest problem is what to do with the nearly $4 per share of cash and investments on its debt-free balance sheet.
Operating margins have been in the low 20s, which is very impressive for a parts supplier, and we model returns on invested capital to remain over 20% in our five-year explicit forecast period. The firm's secret is its technical excellence brought about by consistent dedication to R&D even during recessions. Its technology is always the best mirror on the market, and automakers respect Gentex for its technical and quality expertise. The company has won several quality awards from the Detroit Three and Japan Three and is a six-time winner of Automotive News' PACE award for innovation. Gentex keeps an eye on quality by maintaining all its manufacturing in western Michigan. This technical record is important because although even the best automotive suppliers have little to no pricing power with the OEMs, customers are not going to dump Gentex for another mirror maker solely because of price. The supplier/automaker relationship is different from Wal-Mart's buying cotton T-shirts, since auto parts are not identical in performance, price, and quality. If a supplier is not reliable on just-in-time or product durability, it will not supply the auto industry regardless of how cheaply it can price.
The Kids Transportation Safety Act of 2007 also is a likely source of growth for Gentex. In order to comply with the already signed legislation, the National Highway Traffic Safety Administration issued preliminary rules in December 2010 that require camera-based technology to show drivers a view behind the vehicle within two seconds of shifting into reverse. NHTSA did not specify whether the view has to be in the mirror, dashboard, or other part of the vehicle's interior. Gentex should be a big winner in the final rules because the government is likely to leave open exactly how automakers comply with the law, and Gentex last year sold 1.7 million rear camera display mirrors, up from 65,000 in 2007. Nearly all of this volume was in the U.S.; Gentex has about 95% of the RCD mirror market. NHTSA was scheduled to issue final rules by now but has delayed issuance multiple times. The last delay announcement caused severe downward movement to Gentex's stock on Feb. 29, even though no new information was in the government's announcement.
NHTSA currently expects to issue final rules no later than the end of 2012, but we expect it will have to push back the timing of its proposal for the gradual RCD implementation for new vehicles manufactured for sale in the U.S. (currently 10% in September, 40% in September 2013, and 100% starting in September 2014) because the final rules are not even out yet. Gentex's RCD mirrors were installed in about 13% of all vehicles produced in North America last year. NHTSA will eventually either issue the rules or announce another delay, but we expect the final issuance to cause a sharp increase in Gentex's stock price that day unless NHTSA endorses a view for RCD in a place other than the rearview mirror. We do not expect NHTSA to be that specific on preference as automakers already use RCD technology in multiple places in the vehicle, including the mirror. Other places that would not benefit Gentex would be the navigation screen, radio, or dashboard. Gentex's management is guiding for the top 20% of the industry to use RCD in a navigation screen but is not issuing any guidance on how much of the bottom 80% it will capture. We currently model 30% of the entire North American market in 2015 using an RCD mirror, with Gentex capturing 80% of that. There is significant uncertainty as to how much of the market will use RCD in the mirror as opposed to another location, so there could be upside potential to our fair value estimate. Conversely, there could be downside if the adoption rate is less than 30%.
With free cash flow often in the midteens as a percentage of sales, Gentex is worth keeping an eye on, as we think it will be a low-risk investment should the market experience a large sell-off due to profit taking, the European debt crisis, Iran, or other macro issues. On the downside, Gentex is subject to some company-specific risk factors such as the uncertainty surrounding how much new business it will win due to the Kids Transportation Safety Act, and because 45% of unit shipments last year went to Europe. The European auto market is in terrible shape and will remain a source of loss for nearly every major OEM. Gentex is somewhat protected, however, because Volkswagen (OTCPK:VLKAF) and Mercedes (OTCPK:DDAIF) made up 26% of 2011 revenue, and these are two of the automakers actually able to be profitable in Europe.
Gentex is the type of name on which we think investors can make a lot of money after a sell-off because there is little reason to fear taking a large position, given its dominant market share and debt-free balance sheet. For this reason it can be very attractive to value investors, but we think it should be on the watch list for growth investors as well. The auto-dimming mirror market today is an $1.1 billion-plus industry, but Gentex projects it to be $3 billion in the next 10-12 years. We still see a long growth runway for auto-dimming mirrors because emerging-market consumers over time will become wealthier and more able to afford and demand higher-end content. Also, the penetration rates for interior auto-dimming mirrors have a long way to go at only about half of the North American market, 25%-30% in Western Europe, and just 10% in Asia (mostly Japan). Another possible upside for investors is that Gentex's cash hoard and debt-free balance sheet could make it a leveraged buyout candidate for a private equity firm once chairman, CEO, and founder Fred Bauer, 69, steps aside. Bauer has no plans to retire for now and owns 3.3% of the company.
Investing in Auto Stocks Requires Immense Patience
We constantly see the stocks of good operators in all areas of the supply chain sold off for purely macroeconomic reasons or, as in GM's case, for reasons that are overdone, such as its legacy obligations and government and VEBA ownership. We think patient investors will be amply rewarded for buying these stocks in 2012 when the industry's recovery finally begins to pick up major traction. The auto industry is certainly full of risks, some of which are beyond management's control. Barriers to entry are constantly falling, and the key U.S. market should get more crowded as Hyundai-Kia and Volkswagen increase share. Still, GM and Ford can break even at a depression-like SAAR, so we think both can be profitable in just about any economic cycle regardless of competitors' increasing share. We think the Street is more focused on downside risk to automakers and forgetting that these companies' high fixed-cost base helps them in a recovery. Investors wishing to avoid complex issues with OEMs, though, may find Gentex's story far more appealing.
Disclosure: Morningstar licenses its indexes to certain ETF and ETN providers, including BlackRock, Invesco, Merrill Lynch, Northern Trust, and Scottrade for use in exchange-traded funds and notes. These ETFs and ETNs are not sponsored, issued, or sold by Morningstar. Morningstar does not make any representation regarding the advisability of investing in ETFs or ETNs that are based on Morningstar indexes.