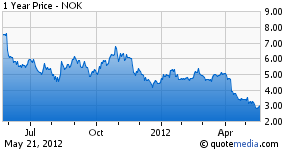 In the last 20 years, Nokia (NYSE:NOK) has spent more than $50 billion to build its current patent portfolio. The company's patent portfolio includes more than 10,000 unique patents, and many of these patents are crucial to building a mobile phone today.
Currently Nokia earns money on each iPhone sold by Apple (NASDAQ:AAPL) along with many other phones from many other companies. The company currently generates $750 million per year on its patent royalties. This is why some suggest that splitting Nokia into two companies - one focusing on mobile phone designing and production, the other focusing on collecting royalties on Nokia's patents - could be profitable.
After all, if the patent portfolio turned into a new company, this company would easily have positive cash flow as it would have very low costs. All this company would need would be an office space with several engineers, accountants and lawyers. Even if the other company went bankrupt, the investors would still have another company - with positive cash flow - to rely on.
Currently Nokia is in court with many mobile phone makers including but not limited to HTC, Research In Motion (RIM) and ViewSonic. There are at least 45 patents that are subject to Nokia's lawsuits. Once all the cases are settled, the company's annually patent royalty revenues may easily pass $1 billion.
Because the company earns royalties per mobile phone sold, its income would grow at about the same rate of the market growth. For example, if the mobile device market grew globally by 30% in a given year, this company's income would grow at a similar rate as long as it is able to collect its royalties efficiently.
However, there is an issue with this spin off. The part of Nokia that designs and builds mobile phones is currently burning through cash and it needs every penny it can earn. If the patent portfolio was spun off to a different company, this part of the company would burn through cash at an even faster rate, possibly bringing the company closer to death than ever. In Nokia's struggle of survival, each dollar counts.
In the last few years, "patent wars" have become more fierce. In an effort to increase revenues and pressure competitors, companies are suing each other all over the place based on patent violations. Google (NASDAQ:GOOG), Samsung, Oracle (NYSE:ORCL), Apple and Nokia are just some of the major players in the patent wars. Perhaps, the patent war is one of the main reasons Google acquired Motorola (NYSE:MMI) for a huge premium. In the last few years Nokia won a lawsuit against Apple and lost one against Qualcomm (NASDAQ:QCOM). Some of the pending lawsuits may take a long time to settle, and Nokia will have to survive at least a few years to see the end of all its lawsuits.
I expect Nokia to get more aggressive about its patents in the next few quarters. I also expect the company to receive higher royalty fees during the same period. I find it very unlikely that Nokia will spin off its patent portfolio as another company. I believe that the company will continue in one piece until the end. I don't see Nokia going bankrupt either. I believe that the company will turn into positive cash flow starting the third quarter of this year. I am bullish on Nokia in the long term and I don't see much more downside left in this stock.
Disclosure: I am long NOK.