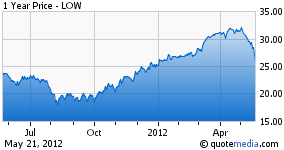 Lowe's (NYSE:LOW) reported decent first-quarter results Monday, but its outlook left something to be desired. Management indicated that demand had tapered off toward the end of the reported period and reiterated its cautious view on the housing and macro-demand environment. We think the shares have downside to the high teens based on our DCF valuation range, and we remain on the sidelines.
We thought Home Depot's (NYSE:HD) outlook issued last week wasn't that bad, but unfortunately, we cannot say the same thing about Lowe's views on 2012. But first, let's dig into the quarter. Lowe's sales advanced nearly 8% in the period, while net earnings per share jumped just over 14%. Not that bad of a showing, but comparable store sales increased just 2.6% while US comp store sales jumped 2.7%. Such growth was lower than expectations and may reflect market share losses to Home Depot during the period. Lowe's also faced some pressure on the gross-margin line (34.7% versus 35.4%), though it made the shortfall up by cutting overhead expenses (SG&A). On the bottom line, diluted earnings per share came in at $0.43 (ahead of consensus expectations), but a large portion of the year-over-year increase was driven by significant share buybacks.
Management's outlook for the remainder of fiscal 2012 was the big story, however. The firm expects total sales to increase only 1 to 2% during the year, which is significantly lower than the 8% pace the firm recorded in its first quarter. That was the shocker to investors and largely explains the firm's rapid share price decline following the report. Comparable store sales will grow between 1% and 3% for the year, while diluted earnings per share is expected to come in the range of $1.73 to $1.83. This fiscal-year guidance range is slightly lower than management's previous earnings forecast range of $1.75 to $1.85 per share. We wouldn't be surprised to see Lowe's shares return to the low-$20s to better reflect our estimate of its intrinsic value.
Disclosure:
I have no positions in any stocks mentioned, and no plans to initiate any positions within the next 72 hours.