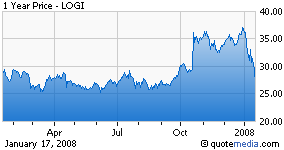 Logitech (NASDAQ:LOGI) shares are down sharply after the company this morning reported lighter-than-expected revenues for the fiscal third quarter ended December 31. Revenues totaled $744 million in the quarter, below the Street consensus of $776.25 million. GAAP EPS of 71 cents was in line with the Street.
The company that it had 9% year-over-year growth in retail sales, with 9% growth in the Americas, 4% in EMEA (Europe, the Middle East and Africa) and 44% growth in Asia Pacific. The company said growth in the Americas and EMEA was retained by weakness in webcams.
Logitech confirmed its 15% sales growth target for the March 2008 fiscal year. It says operating income growth will be more than 20%; the company had said previously that its income growth was 20%. Logitech expects FY '08 gross margin at the high end of its long-term target range of 32%-34%. For FY 2009, the company expects 15% growth in revenue and operating income.
LOGI Thursday is down $2.49, or 8.5%, at $26.93.