Following Microsoft (NASDAQ:MSFT) and Google (NASDAQ:GOOG), Yahoo! (YHOO) is officially coming to Israel - with a bang. The search engine's penetration plan has two fronts: opening an R&D center in Haifa and entering the content business through an agreement with Walla! (WALA), the second largest Israeli portal, offering news & entertainment content, email services and search, making it Yahoo's Israeli cousin.
Following the footsteps of Google and Microsoft, Yahoo has found a new home in the Holy land. It all began in July 2006, when Google opened its first R&D center in Haifa despite the Lebanon war at the time. It was an experiment, and the Israeli facility was not only the first in its region, but also only the fourth Google R&D center out of the U.S. The Haifa experiment worked well and Google proceeded to open its offices in Tel Aviv in June of 2007 (covered on VC Cafe). Microsoft on the other hand, has set up sales and marketing offices in Ra'anana, Tel Aviv and Herzliya.
The Deal
The long term deal between Yahoo! and Walla! took months to negotiate, but it holds a lot of potential for both sides. According to the terms, Walla will use Yahoo's search technology (and index) while keeping its own brand. This will replace Walla's propietary search engine, built a year ago, for $1 million in development cost. The advertising on Walla will continue to use Walla's AdVantage, a pay-per click advertising platform. In return, Yahoo will receive a share of the ad revenue.
Six months ago, it was rumored that Walla was negotiating with Google, but no agreement between the two was ever reached. Now, ff this new joint venture works, it could be a noble effort to overthrow Google's market domination in search for the past three years and churn a piece of its contextual ad network in Israel. In addition, Yahoo will set up a new R&D center in the Matam Park in Haifa and has already started recruiting engineers.
According to Walla's CEO Ilan Yeshua:
The search and advertising in search results sector is one of the fastest growing in the world, and also in Israel. The agreement with Yahoo! allows us to offer Walla!'s surfers an excellent search product … for the Israeli user. The agreement will help Walla! increase its market share in the search-based advertising market. The existence of another strong player in the search and textual advertising sector will contribute to competitiveness , both in the search experience and in the range of possibilities available to advertisers. (source)
The Israeli Internet advertising market has grown 400% in THE RECENT four-year period, from $25 million in 2003 to estimated $90 million in 2007, 10% of the total advertising spend. Search engine advertising represents about half of this figure, totaling $40-$50 million, the majority of which went to Google.
Take a look at the numbers
Alexa shows a slight traffic advantage for Google Israel:
But Compete.com shows a different picture, marking almost a 12% decrease for Walla over the course of 2007, while Google rose more than 130%: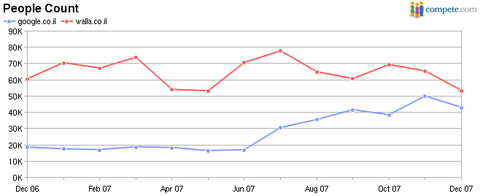 It would be interesting to check back on these two in a few months…
What's next
If you ask me, any alternative to Google in the emerging markets is worthy of a shot. Google has been infamous for dominating some of the European countries such as approximately 90% market share in the UK and 95% market share in Germany. This year, Israel scored two out of the top 10 alternative search engines, and I'd like to see Omgili and Answers.com either grow or get acquired. Lastly, though the Israeli search market is relatively small, Yahoo's deal represents a good sign for the M&A of Israeli internet startups. Who knows? maybe we'll see others like Ask.com there too one day.