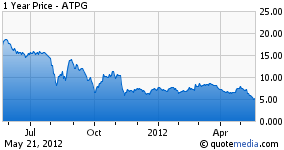 ATP Oil and Gas (ATPG) has long had a very specific business strategy. That strategy has involved focusing on offshore oil and gas properties and being involved only in development operations. In other words ATP has always avoided exploration risk and focused on only development.
ATP has targeted developing properties that include already discovered reserves that are too small to be of interest to the larger oil and gas producers. The idea being that ATP can pick up discarded properties at pennies on the dollar which makes it possible to develop the properties economically.
This strategy has resulted in ATP becoming one of the smallest companies that operates offshore Deepwater wells. Because operating in the Deepwater is extremely expensive, it is generally the playground of the big boys.
In the wake of the BP oil spill there was a lot of focus on whether a small player should be allowed to operate in the Deepwater given the potential for huge liability in the event of an oil spill. ATP received a lot of attention for being a little guy operating in the Deep.
This attention that was directed at ATP being one of the few small companies with Deepwater expertise ironically opened up a new offshore opportunities for ATP. Other small global operators who hold exploration properties but don't possess offshore development expertise realized that ATP could be of some help. While these small companies generally aren't going to get the time of day from the mega oil companies who hold most of the world's Deepwater experience, ATP is another story.
Long story short, ATP is now a partner in an offshore property in Israel.
These new opportunities have meant a significant change in ATP's business model however. After promoting a development only mantra for years, these wells that ATP is partnering on are strictly exploration.
ATP recently announced the commencement of drilling on its first exploration target:
ATP May 9, Press Release - "ATP commenced drilling its first well offshore Israel in late April 2012, an exploratory well in the Shimshon license. Preliminary results are expected in third quarter 2012. ATP operates the well with a 40% working interest through its ATP East Med B.V. subsidiary. ATP notes that Isramco Negev, its partner in Shimshon, on March 6, 2011 reported that it received an independent reservoir engineering evaluation from Lockwood & Associates estimating gross potential natural gas resources at Shimshon and that they calculated assessment of the total geological and geophysical exploration probability of success of 20 percent to be reasonable. Lockwood said its high estimate of reserves to the 100% interest was for 3.4 TCF, the low estimate was 1.5 TCF and its best estimate was 2.3 TCF."
The best estimate of the potential for the well is 2.3 TCF. If that is what the result turns out to be, ATP is going to double its booked reserves.
Clearly that would be good news for ATP shareholders. My only question is that, given that ATP is likely the most over-leveraged company in the industry, how is it going to pay for development of this property? ATP is already struggling to pay for development of its Clipper project in the Gulf of Mexico and its Cheviot project in the North Sea. How is it going to find cash for a third big development? ATP needs immediate cash inflows, not more cash outflows.
Offshore Israel is the home to more than one exciting high impact exploration well in the coming weeks. Tiny IPC Oil and Gas Holdings is also getting ready to drill its exploration well targeting another massive target on its Myra license. Unlike ATP, IPC Oil and Gas Holdings is pure exploration, so if successful this well will be a company maker.
The incredible success that Noble Energy (NYSE:NBL) has had with exploration offshore Israel must have management and shareholders of companies like ATP and IPC dreaming of exploration windfalls. It won't be long now until drilling results are in and we know if the wells are windfalls or a dry holes.
Disclosure: I have no positions in any stocks mentioned, and no plans to initiate any positions within the next 72 hours.