Perhaps not squarely on certain people's radars in these parts, OSI Pharmaceuticals (OSIP) is sometimes not uttered in the same breath by some when referring to public CO companies.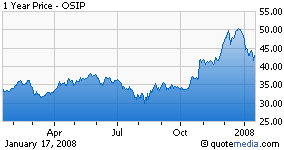 This is understandable, I suppose, since corporate headquarters are actually located in Melville, NY; however, a very significant campus is here in Boulder, housing both clinical and R&D functions. For the third year in a row, in fact, OSI Pharma's Boulder office won an Award for Colorado's Best Companies for working families. OSI Pharma placed 1st in 2006 and 2nd in 2005 in the medium-sized business category, and was named a 2007 Honorary Member of the Circle of Distinction for 2007.
Thursday OSI Pharma has a live webcast from the Stanford Group Healthcare Conference in Washington DC. I'll be interested to hear about their flagship product, Tarceva, a small molecule tyrosine kinase inhibitor of the epidermal growth factor receptor used for second-line treatment of Non Small Cell Lung Cancer.
OSI Pharma has recently priced a private placement of $175MM of 3% convertible senior debt due 2038, and has also granted the initial purchasers of the notes a 13-day option to purchase up to an additional $25MM. With these proceeds OSI Pharma intends:
- To fund repurchases of ~1.5 million shares of its common stock
- To retire its 3.25% convertible senior notes due 2023
- General corporate purposes
The new notes will be convertible, in certain circumstances, into common stock of OSI Pharma based upon a base conversion rate of 13.5 shares per $1,000 principal amount of notes which represents today approximately a near whopping premium of 60% to Tuesday's $41.59 close.
I will be curious to hear the amount of the retiring debt and what portion of the private placement will then ultimately be added to their cash position as-of September '07 of approximately $298MM (including short-term) investments.
Other products OSI have in the clinic include OSI-930; an inhibitor of c-Kit and the VEGFR-2, OSI-930 is designed to target both cancer cell proliferation and blood vessel growth (angiogenesis) in selected tumors and, in preclinical studies, OSI-930 has demonstrated efficacy in small cell lung cancer, glioblastoma, colorectal, renal, head and neck, non-small cell lung cancer and gastric cancer tumor models. Also in Phase I studies is OSI-906 an inhibitor of the insulin-like growth factor-1 receptor.