iShares Dow Jones U.S. Consumer Goods ETF (NYSEARCA:IYK) lost more than 3% during the three months ending January 11. That drop looks much better when it's placed beside broad market indices, however. The S&P 500 lost more than 9% during the same period, and 95% of the funds in Morningstar's large-blend category trailed IYK's performance. The fund's strong relative showing spurred it up the ETF Momentum Tracker sector table to position 18 last week, up from 24 on November 20. IYK could go a lot higher if the consumer goods stocks in which this fund invests—which include many highly defensive consumer staples stocks—continue to appeal to recession-leery investors.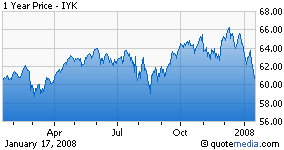 IYK's portfolio is home to America's largest consumer goods stocks. Nearly half of the fund's assets recently were invested in stocks classified as giant-cap by Morningstar, and most of those assets represented the fund's top five holdings. Number one holding Procter & Gamble (NYSE:PG), the world's largest consumer products company, and number two holding Altria (NYSE:MO), the second-largest tobacco company, alone represent dozens of such well-known brands as Gillette, Pampers, Crest, Pringles, Tide, Head & Shoulders, Miller and Marlboro. Between those household names and the other major brands represented in IYK's portfolio—Nike (NYSE:NKE), Kraft Foods (KFT), Coca-Cola (NYSE:KO) and Anheuser-Busch (NYSE:BUD), to name a few—the basic staples of the typical American's budget are thoroughly represented.
As a whole, the consumer goods sector has had a rocky few months. Stocks in luxury-goods firms like Coach, high-end retailers like Tiffany and even fairly mainstream retailers like Target have taken a beating in recent weeks as a bleak economic climate soured consumer sentiment and eroded sales. The New York Times, in a January 14 front-page story on consumer spending, pointed to signs that the U.S. could be experiencing its first decline in overall personal consumption since 1991—a development the paper predicted would almost certainly lead to a recession.
But even if a period of economic contraction inspires thriftiness among consumers, they are unlikely to cut back spending on such products as laundry detergent, razors, toothpaste, cigarettes and packaged food. And if they do, it will likely be to opt for cheaper brands—many of which also are sold by firms represented in IYK's portfolio. For example, consumers might increasingly find Pringles potato chips more attractive than a pricier organic stone-ground variety or pick Head & Shoulders shampoo over a higher-end brand sold at a salon.
IYK's reliance on a host of steady-selling products has made for steady performance. The fund's standard deviation during the last three years was only 6.78, compared with the S&P 500's 7.78 standard deviation. That means the fund performed with greater stability than the index—an uncommon distinction among single-sector funds.
Given the uncertainty of today's investment climate, it's worth reviewing how IYK performed during the last bear market, in 2002. While the S&P 500 fell about 22% that year, IYK only lost 5.5%, making it one of the top-performing funds in its Morningstar category. The trade-off for the fund's stable and independent performance has been relatively slow growth, but even on that front IYK holds its own. In both the three-year and five-year periods ending January 11, IYK's annualized returns were almost identical to the S&P 500—only a few tenths of a percent shy.
IYK's history demonstrates the conventional wisdom that consumer goods stocks tend to hold up well during tough economic times. But the nature of current economic woes might prove especially challenging for even the most stalwart staples stocks. Soaring commodity prices are causing steep increases in raw materials and transportation costs, shrinking profit margins for many firms. That gives U.S. firms less profit to invest to build strong footholds in emerging markets, where the greatest potential for growth lies. Procter & Gamble, for example, is facing stiff competition from European rivals L'Oréal and Unilever for market share in China and other Asian markets.
And even if IYK does continue to outperform most of the market, that might not be enough to deliver the fund into the ETF Momentum Tracker Sector Portfolio. Another consumer goods–oriented fund that shares several holdings—iShares S&P Global Consumer Staples (NYSEARCA:KXI)—joined the Portfolio in December and ranked 11 on the ETF Momentum Tracker sector table last week.
It's worth keeping an eye on both funds, though, especially if IYK maintains its upward momentum. Unlike KXI, which was born in September of 2006, IYK has accumulated a long-enough history to show that it can stand up well under the pressures of a bear market. If current conditions continue, investors might be interested to find out if the fund can pull it off again.