Gold has been pulverized lately, and gold stocks have been public enemy #1. This is usually the case at a major bottom, but there is one gold stock that apparently isn't aware of the big weakness in all things gold, even though, of all gold stocks, you would think it would have the most weakness.
Gold Reserve (GRZ) of Spokane Washington is a micro-cap miner that could be used as a prime instructional example to new investors of foolish risk to be avoided at all costs in case of a sector downturn. It exhibits nearly all of the fool's risk traits. All of its earnings are future speculation; the company hasn't so much as turned a dime of profit. They don't have a wide, geographically diversified portfolio of properties. And to top it off, their one major play is in the back yard of America's major anti-business maniacal dictator - not Barack Obama, as some of you Republicans may have thought, but Hugo Chavez.
Venezuela's Chavez has, of course, been a pest for US business in the past with his oil policies. But he was a real pest to GRZ in May of 2008, when, just as Gold Reserve had invested over $300 million to get their Brisas Project to the point of construction, he issued a declaration nationalizing this gold project in Venezuela. Since then, in August, 2011, Chavez has declared the entire gold mining industry operating in his country to be nationalized. The reason he gave was to prevent illegal mining and to build Venezuela's gold reserves. He has been calling home all his gold reserves being held in vaults around the world. He doesn't want those assets frozen if his global behavior is frowned upon. His behavior has put no less than 17 cases before the World Bank's International Center for Settlement of Investment Disputes, many of which are mining related, with GRZ alone demanding some $2.1 billion in damages.
With these monstrous problems, you would think that GRZ would be leading the loser board in the gold stock smack-down this year with technical damage galore. But if you look at its condition, you see this:
(click on image to enlarge)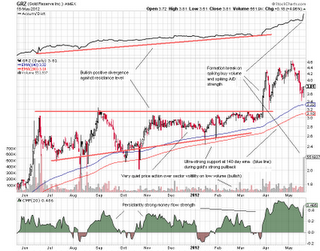 It is the picture of technical strength with a 37% gain YTD - better than Apple!
What's going on here? The thing that really stands out to me is the strong-handed ownership of this stock in the face of the sharp sell down of anything gold related. This quiet price action versus quick triggered selling in the general market often means a stubborn portion of share ownership left over from high volume selling that leaves only upside volatility for the future. After all, the seizure of the company's gold is really old news.
Have all the sellers simply left, or do the present shareholders know something the rest of us don't ? I don't know how the case with the World Bank will turn out, but the strong hands are usually attached to the smart brains - they're usually right. If we're at the bottom of the down move in the gold stocks with a new flood of buyers emerging, this small stock could climb very well.
The patient holders of this stock may be thinking that the company has over 8 million ounces of gold in the ground (their web site states 10.2 million ounces) and if you assume a $1600 gold price the next few years and an $800 cash cost for getting it out, you have a gross profit over 30 times the current market cap. They may be willing to wait out the Chavez government. But if he is as long lived as his buddy Castro in Cuba, that could be a long wait.
Disclosure: I am long GRZ.