We'll take a look at Texas Instruments (NYSE:TXN) and Analog Devices (NASDAQ:ADI), the semiconductor manufacturers. Demand in the industry is soft and executives at Texas Instruments expect demand to increase in the current quarter. Both firms are rated "neutral," based on macro-economic headwinds and a forecast for an increase in demand in the third quarter 2012.
Texas Instruments - Neutral
The analog chip industry is fragmented; notwithstanding, the firms have strong pricing power.
Historically, the semiconductor industry has created value for investors.
Additionally, economic growth is strongly correlated with earnings.
That being said, Texas Instruments has gotten cheaper on a price-sales and price-cash-flow from operations basis and the enterprise is still fairly valued. The long-term prospects remain compelling; short-term, revenue is declining and cash-flow from operations is declining.
However, earnings next quarter could act as a bullish catalyst. Semiconductor demand is below the 30-year average; typically, demand rebounds and rises above the 30-year average.
The forecast for second-quarter revenue isn't projecting a rise in semiconductor demand. Given the global economic backdrop, an increase in semi-conductor demand may not occur until quarter three of this year.
The enterprise's inventory is at a historic low. While Texas Instruments is forecasting an increase in demand, the firm is cautiously optimistic. Leadership is attempting to maintain low cost while rebuilding inventory.
Additionally, Texas Instruments is integrating National Semiconductor's products into its portfolio. Given the fragmentation of the semiconductor industry, the acquisition of National Semiconductor allows the enterprise to offer clients a more integrated product. Also, Texas Instruments is increasing its presence in the mid-sized, mid-tier market.
With the acquisition of National Semiconductor, Texas Instruments increased fixed-assets and gained modern "Fabs."
(click charts to enlarge)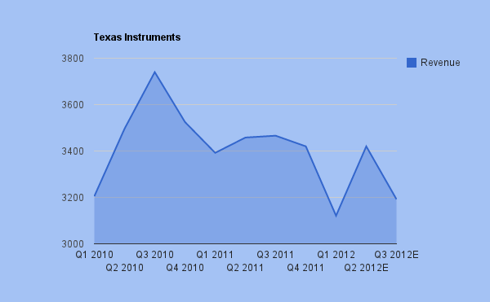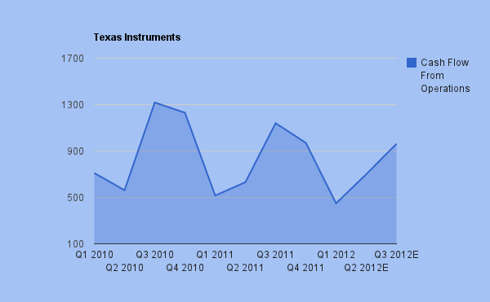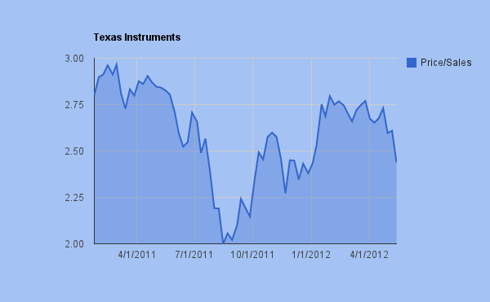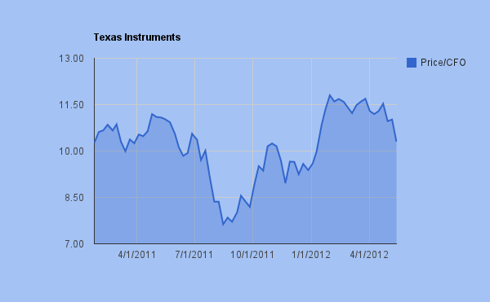 Analog Devices - Neutral
Revenue has declined in recent quarters; however, the forecast is for a strong first-quarter earnings report. Book value-share has increased, although at a decreasing rate. The enterprise is getting cheaper on a valuation basis, however, shares are trading well above their end of 2011 value.
Given the U.S. macro-economic backdrop and uncertainty stemming from Europe, valuations could continue to decline. Additionally, soft demand should mean revenue comes in below our forecast.
Shares are trading below the flattening 50-day simple moving average, a sign that shares are being distributed.
The World Semiconductor Council's annual meeting is May 24-25 and will be watched by analysts and investors. Additionally, the enterprise reports earnings this week.
Analog Devices is well positioned to benefit from growth in the smartphone market. Additionally, the firm is a leader in data conversion.
(click charts to enlarge)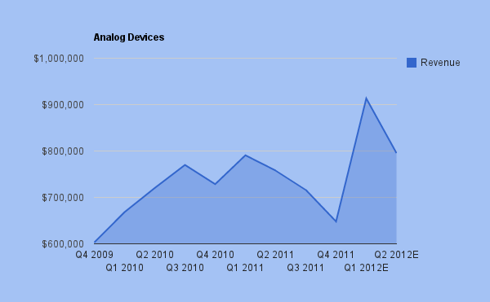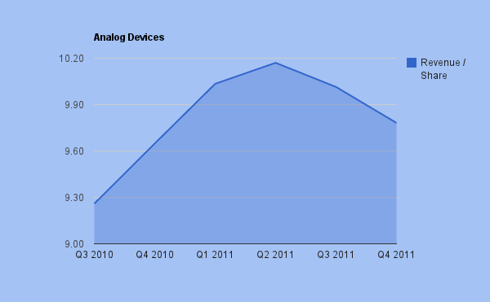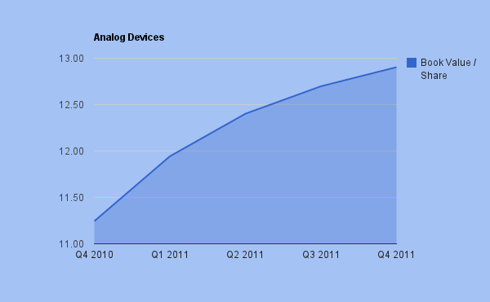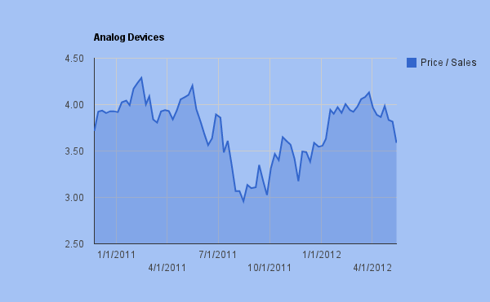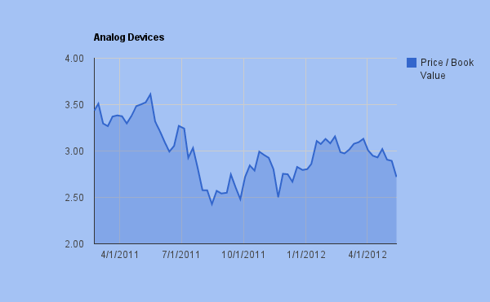 Disclosure: I have no positions in any stocks mentioned, and no plans to initiate any positions within the next 72 hours.