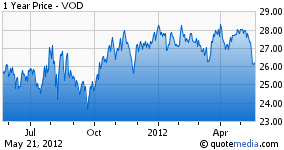 Will Vodafone (NASDAQ:VOD) announce an inflation-beating increase in dividend payouts to shareholders this week, re-confirming its status as U.K.'s largest dividend payer?
On Tuesday, the group is expected to report revenue up to £46.2 billion from £45.9 billion last year, with pre-tax profits of £12.8 billion, up from £11 billion last time. Dividends are expected to increase by 7% to about 9.5 pence a share.
By the end of March, 2012, Vodafone paid out £6.7bn to investors, including the "special dividend" from Verizon Wireless
What is the scope that this "special dividend" is becoming more "permanent?"
Vodafone is expected to increase its dividends following settling its differences with its American partner Verizon Communications (NYSE:VZ). Their joint venture, Verizon Wireless, has cleared its debts and is now generating more than $1bn (£630m) in cash every month.
Optimistically, some analysts are predicting that Verizon Wireless could return a dividend of up to $13 billion in the financial year ahead. However, there appears to be still some considerable debate between the two owners over whether any such dividend would become an annual event, or not.
We will have to wait till Tuesday … in the meantime …
Vodafone's bid for C&WW in trouble?
Vodafone is also likely to update investors on the progress of the company's £1 billion bid for Cable & Wireless Worldwide.
While the bid has been recommended by the board, leading C&WW's shareholder Orbis, with 19 per cent of C&WW is resisting the offer as 'too low'. One way out for the bid to complete is, as per their suggestion, for Orbis to remain a shareholder with the intention of selling C&WW later to Vodafone at a higher price.
Orbis has done something like this before. In 2009, it objected to Canon's (NYSE:CAJ) $1.1bn bid for Oce, a Dutch copier and printer maker in which it had a 10 per cent shareholding. Canon eventually acquired 90 per cent of Oce, allowing Orbis to retain its shareholding.
An Orbis spokesman told The Sunday Telegraph that Vodafone's offer did not reflect the true value of C&WW, which counts 70 per cent of the FTSE 100 as clients and has the biggest fibre network in the U.K.
"Given the difficulties that C&WW has encountered and the uncertainty its customers face around the future direction of the company, we would not be surprised for Monday's results to show a continuation of CWW's disappointing trends," he said.
Quite, just the argument for Vodafone to stick to its current offer.
Disclosure: I am long VOD. We run the Dividend Income Portfolio, which owns a shareholding in Vodafone Plc, purchased when the share was historically undervalued as per our valuation methodology.