Verifone Systems, Inc. (NYSE:PAY) designs, markets, and services electronic payment solutions in North America and internationally. It provides system solutions, including countertop electronic payment systems that accept magnetic, smart card, contactless/ radio frequency identification (RFID) cards, and near field communication enabled mobile phones; secure PIN pads that support credit and debit transactions; and wireless system solutions that support Internet protocol-based code division multiple access, general packet radio service, bluetooth, and wireless fidelity technologies. It operates in Business Equipment industry.
VeriFone Systems is scheduled to report its quarterly results on May 24, 2012, after the market closes.
Recent EPS Actuals vs. Estimates
The company has met or exceeded analyst estimates in the last four quarters. It has done so in the last quarter by 11.5%, reporting $0.58 vs. $0.52 estimated.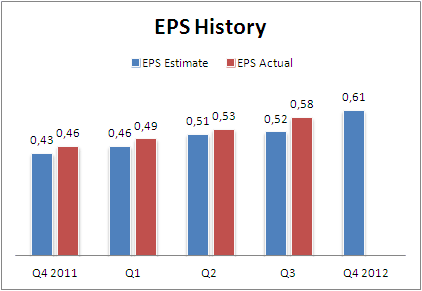 Analyst Estimates
The consensus for EPS is $0.61 based on 11 analyst estimates, up from $0.46 a year ago. Revenue estimates are $472M, up from $293M a year ago. The median target price by analysts for the stock is $56.
Average recommendation: Overweight
Source: Marketwatch
Analyst Upgrades and Downgrades
On April 29, 2012, Deutsche Bank downgraded PAY from Hold To Sell.
On February 29, 2012, UBS initiated Neutral call.
On January 2, 2012, RBC Capital Markets upgraded the company from Sector Perform to Outperform.
Key Metrics
Market cap: $4.66B
52 week trading range: 30.25 - 55.89
Trailing P/E: 17.74
Forward P/E: 13.28
P/S: 3.24
P/B: 3.82
PEG Ratio: 0.64
Annual dividend yield: N/A
Total debt: $1.64B
Return on Equity: 32.56%
Return on Assets: 3.8%
Latest Developments
Technical Insight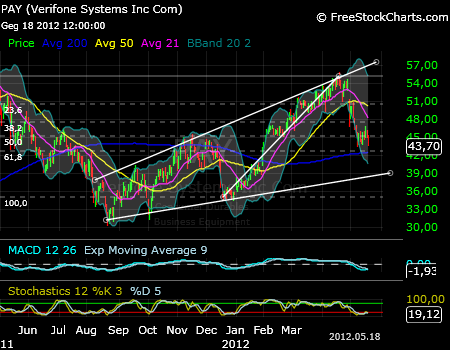 This is a daily chart for PAY. It is trading below its 21 and 50 day moving averages, but above the 200 DMA. It is approaching the 200 day moving average and could find a support at this level ($42.48). You can also find a 61.8% Fibonacci Retracement level at almost the same price ($42.81). Stochastics are in oversold territory for the last couple of weeks.
Sources: Yahoo Finance, Google Finance, CNBC, Marketwatch, Reuters, Forbes.
Disclosure: I have no positions in any stocks mentioned, and no plans to initiate any positions within the next 72 hours.