GenVec (NASDAQ:GNVC) is a smallcap biotech trying to become a bigcap. Its lead product, TNFerade, is currently in a pivotal Phase II/III study [PACT] in locally advanced pancreatic cancer; Phase II studies are in progress in rectal cancer and melanoma, and Phase I/II studies are in progress in head and neck cancer. GenVec also uses its proprietary adenovector technology to develop vaccines for infectious diseases including HIV, malaria, seasonal and pandemic flu and foot and mouth disease. During GenVec's most recent discussions with the FDA, the FDA agreed to change the primary endpoint of the PACT trial to overall survival from one year survival.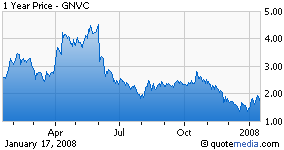 For GenVec shareholders, this is a major plus. According to statistical analysis of the most recent data, the biggest difference in survival occurs beyond one year for patients on the current SOC. SOC patients typically expire between 6-12 months after diagnosis. Anecdotal evidence is beginning to show up in the form of message board postings and news releases.CBS in Denver did a piece on a TNFerade patient who is more than one year post treatment and is back to living his normal life. The video from this patient is currently available on YouTube (search "pancreatic cancer"). More and more patients are coming forward with their success stories of treatment with TNFerade. Its only a matter time before Wall Street and the FDA take notice.
According to the most recent press release from GenVec, the PACT trial will have a next interim look at the data after 92 events, and 184 events. The FDA could stop the trial if significant efficacy presents itself. At a first look at the data in late 2006, the TNFerade group showed an absolute response rate of 70% vs 28% SOC group. If the response rate holds at the next look in late 2008, there is no valid reason for the FDA to continue the PACT trial. It should conclude immediately and seek to approve TNFerade.
Current enrollment for the trial is approximately 130-140 patients (on average 7 patients per month). Enrollment is slow and diagnosis is difficult, often misdiagnosed for many months. I know this because a family member spent the better part of 4 months with many wrongful diagnoses, until an abdominal CT showed pancreatic cancer with liver metastasis.
As you can see, GenVec has many irons in the fire, and it appears that its PACT trial conclusion could occur within the next 12 months.
Disclosure: Author holds a long position in GNVC