AutoZone, Inc. (NYSE:AZO) engages in distributing automotive replacement parts and accessories. The company's stores offer various products for cars, sport utility vehicles, vans, and light trucks, including new and remanufactured automotive hard parts, maintenance items, accessories, and non-automotive products. It operates in the Auto Parts Stores industry.
It is scheduled to report its quarterly results on May 22, 2012, before the market opens.
Recent EPS Actuals vs. Estimates
The company has met or exceeded analyst estimates in the last four quarters. It did so in the last quarter by 2.7%, reporting $4.15 vs. $4.04 estimated.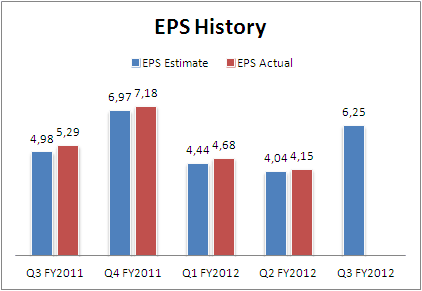 Analyst Estimates
The consensus for EPS is $6.25 based on 18 analyst estimates, up from $5.29 a year ago. Revenue estimates are $2.13B, up from $1.98B a year ago. The median analyst target price for the stock is $433.
Average recommendation: Overweight
Source: Marketwatch
Analyst Upgrades and Downgrades
On April 16, 2012, BB&T Capital Markets initiated Hold rating.
Key Metrics
Market cap: $14.51B
52 week trading range: 266.25 - 399.10
Trailing P/E: 17.37
Forward P/E: 13.79
P/S: 1.74
PEG Ratio: 1.02
Annual dividend yield: N/A
Total debt: $3.46B
Return on Equity: N/A (negative equity value)
Return on Assets: 16.48%
Latest Developments
On May 17, 2012, Auto parts retailers and dollar store chains dropped after earnings reports from Dollar Tree (NASDAQ:DLTR) and Advance Auto Parts (NYSE:AAP). Advance Auto swooned 17% after missing Q1 earnings forecasts. Management said a mild winter led to fewer major repairs for cars, and warned of "constrained" results in the current quarter. Shares of other auto parts leaders, including O'Reilly Automotive (NASDAQ:ORLY) and AutoZone also were hard hit.
On March 7, 2012, AutoZone, Inc. announced that its Board of Directors authorized the repurchase of an additional $750 million of the Company's common stock in connection with its ongoing share repurchase program.
Technical Insight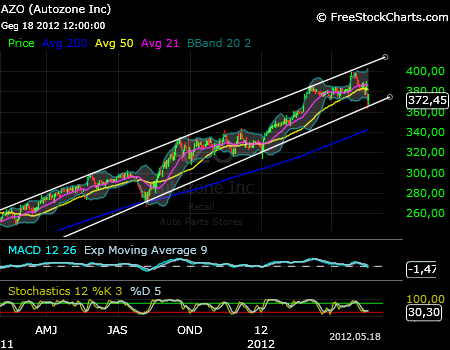 AZO is trading in a nice upward channel above its 200 moving average.
Sources: Yahoo Finance, Google Finance, CNBC, Marketwatch, Reuters, Forbes.
Disclosure: I have no positions in any stocks mentioned, and no plans to initiate any positions within the next 72 hours.