Over the past week, both Home Depot (NYSE:HD) and Lowe's (NYSE:LOW) have reported first quarter earnings. Though both companies missed analysts' estimates, HD still pulls ahead as being a stronger buy into the second half of 2012. Sales have been an issue for both home improvement retailers, which can largely be attributed to the warmer than expected winter months. Over the past year, HD has outpaced LOW in terms of pricing and has been better able to anticipate what consumers' needs are. The following is a recap of both HD and LOW first-quarter 2012 results:
Same Store Sales:
HD: 6.1% (domestically)
LOW: +2.6%
Earnings (% change):
FY Outlook:
HD: Raising sales estimates to 4.6% from 4%.
LOW: Expects sales to increase between 1% and 3%.
These quarterly results indicate that HD is handling the difficult housing market better than its largest competitor LOW. For this reason, along with HD financials and dividend, HD continues to be the better buy after earnings. As evidenced by the chart below, HD has outpaced LOW, but is still poised to grow.
(Click to enlarge)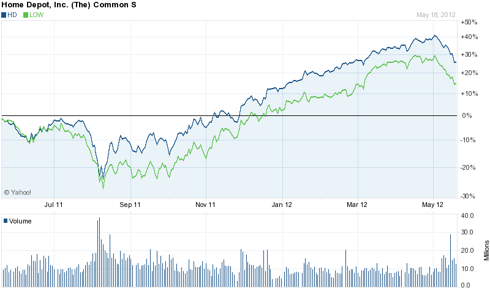 (Yahoo Finance)
Fundamentals:
Both companies are fundamentally sound, but in the retail environment that has been overtaken by the online market and the frugality of the U.S. consumer - perception is everything. HD has managed its business and prices in a better way than LOW and therefore has weathered the economic climate with more success. In order for LOW to turn around its sales and build incremental volume, it will need to prove that its pricing and perception in the marketplace is improving.
Dividend:
HD pays a cash dividend of 2.5% and LOW pays a dividend of 2%. The real story, though, lies within what DividendChannel's DividendRank says about HD as a company. DivdiendChannel has a proprietary software that looks at a companies fundamentals along with its valuation and determines whether it is oversold or not. In the case of HD, it receives a score of 29.4. To put this in perspective, any value below 30 is considered to be oversold. This gives another metric to the case that HD is currently trading below where it should.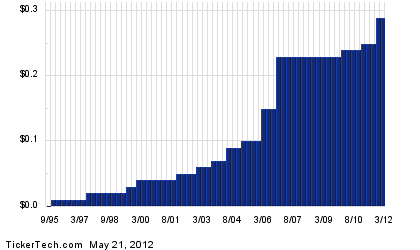 (Dividend Channel)
Financials/Valuation:
Although LOW has a lower Price/Earnings multiple and PEG ratio than does HD, HD still has the upper hand due to its fundamentals. What is illustrated by the financials below is that both companies are "cheap," but HD is poised to outperform LOW due to its stronger position in the marketplace and use of capital (as evidenced by its Return on Equity).
Forward Price/Earnings:
PEG Ratio:
Return on Equity:
Conclusion: Due to the aforementioned reasons, HD is in a stronger position to succeed in the difficult economic climate ahead. Though both companies are inexpensive by the financials, HD's track record, fundamentals and recent quarterly results all point to a better situation than LOW.
(All financial metrics referenced above are obtained from Yahoo Finance, CNBC Analytics, S&P Capital IQ and Thomas Reuters.)
Disclosure: I have no positions in any stocks mentioned, and no plans to initiate any positions within the next 72 hours.