Oil has been in a steady downtrend since briefly heading past $110 on February 29 of this year. However, I think we are closing in on the bottom, and that now is a good time for folks to enter their long oil positions - as well as making adjustments based on what higher oil prices portend. Here's the rationale:
1. First and foremost, any discussion of oil prices should begin with the observation that oil production has peaked while demand is growing. Since 2005, global oil production has plateaued at 75 million barrels per day; even new discoveries, like the much heralded Bakken oil fields, are not enough to offset declines elsewhere in the world. That the price of oil has risen significantly since 2005, and that this price increase has not provided the ability to expand oil production beyond 75 million barrels per day, is particularly ominous. Presumably higher prices would attract more determined oil producers that invest more in production if oil were actually attainable.
2. While production has plateaued, the same cannot be said for demand. As more Eastern economies accumulate wealth they are using more energy, particularly in the form of automobiles and transportation. The chart below, courtesy of ResourceInvestor, illustrates the trend in oil demand.
(Click to enlarge)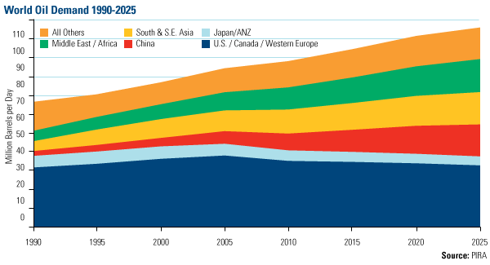 Price exists to reconcile differences between supply and demand. When demand is greater than supply, the long-term trend will work to push prices higher until supply and demand are in balance.
3. In addition to the fundamental supply/demand imbalance resulting from a combination of population growth, wealth accumulation in previously smaller economies, and peak oil is the geopolitical environment that is increasingly characterized by tension borne out of sanctions. The EU has planned sanctions against Iran, set to start on July 1 - less than six weeks away. If international trade declines due to geopolitical tensions, oil prices will rise and the supply/demand imbalance will be further exacerbated. Iranian Economy Minister Shamseddin Hosseini has stated that oil prices could go to $160 a barrel if the July 1 sanctions go through.
4. Last but not least is the technical situation. See the chart below. The price has shown a tendency to bounce off the $88-$90 region. I suspect that is a level bulls will be defending.
(Click to enlarge)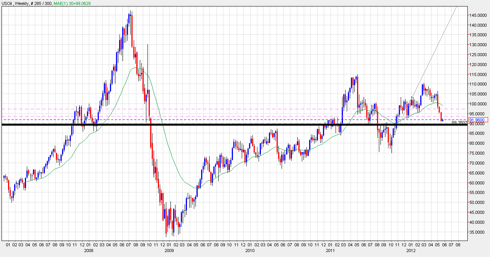 In terms of how to play this opportunity, I do not favor the ETF (NYSEARCA:USO), which has done a notoriously poor job of tracking the price of oil. As I've stated in many of my previous articles on Seeking Alpha, I believe the real solution to the supply/demand imbalance in oil is in investing in other energy sources - mainly nuclear power (NASDAQ:NUCL) and uranium miners (NYSEARCA:URA) that provide the fuel for nuclear power. I do think natural gas prices, which have rallied over 30% since briefly dipping below $2 per thousand cubic feet, are also positioned to rise. The ETF (NYSEARCA:NAGS) may be of interest for those who would like to speculate upon greater demand for natural gas and higher prices as a result.
Disclosure: I have no positions in any stocks mentioned, and no plans to initiate any positions within the next 72 hours.
Additional disclosure: I am long select uranium miners.