H. J. Heinz Company (HNZ) manufactures and markets food products for consumers, food service and institutional customers in North America, Europe, Asia Pacific, and internationally. It operates in the Food - Major Diversified industry.
It is scheduled to report its Q4 FY2012 results on May 24, 2012, before the market opens.
Recent EPS Actuals vs. Estimates
The company has met or exceeded analyst estimates in the last three quarters. In the last quarter it reported $0.95 EPS beating analyst estimates of $0.86 EPS.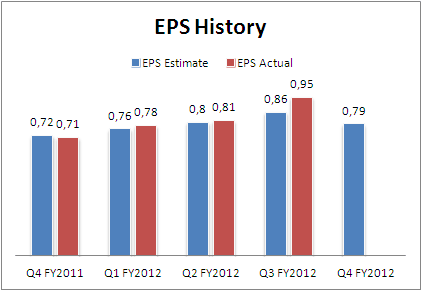 Analyst Estimates
The consensus for EPS is $0.79 based on 15 analyst estimates, up from $0.71 a year ago. Revenue estimates are $3.07B, up from $2.89B a year ago. The median target price by analysts for the stock is $56.50.
Average recommendation: Overweight
Source: Marketwatch
Analyst Upgrades and Downgrades
During the last 30 days one analyst revised this quarter and the next year EPS upwards. However, one analyst revised next year EPS downwards.
Key Metrics
Market cap: $17.31B
52 week trading range: 48.17 - 55.47
Trailing P/E: 18.03
Forward P/E: 15.07
P/S: 1.51
P/B: 6.07
PEG Ratio: 1.97
Annual dividend yield: 3.6%
Total debt: $5.03B
Return on Equity: 34.54%
Return on Assets: 8.94%
Latest Developments
On March 21, 2012, Ex-Date for dividend payment of $0.48.
On March 13, 2012, H J Heinz Co announced that its Board of Directors declared quarterly dividends on both common and preferred stock. The Company declared a dividend of USD0.48 per share on the Company's USD0.25 par value Common Stock payable on April 10, 2012 to shareholders of record at the close of business on March 23, 2012.
On February 17, 2012, H J Heinz Co narrowed FY 2012 EPS outlook to a range in line with analysts' estimates; reaffirms FY 2012 revenue outlook.
Insiders

In the last 3 months there were 520,724 shares sold and 73,398 purchased by insiders.
Competitors
On May 21, 2012, Campbell Soup Company (NYSE:CPB) Reaffirms FY 2012 Guidance. Campbell Soup profit slips.
Technical Insight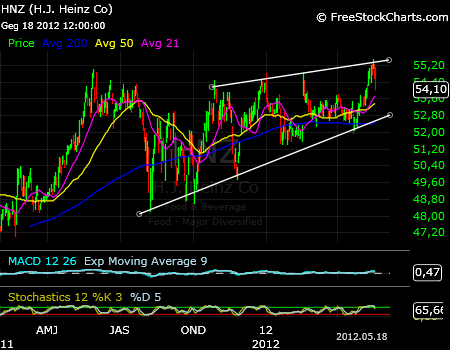 The stock is trading in an upward channel, up from its 21, 50 and 200 moving averages and has recently hit a 52 week high at $55.47.
Sources: Yahoo Finance, Google Finance, CNBC, Marketwatch, Reuters, Forbes.
Disclosure: I have no positions in any stocks mentioned, and no plans to initiate any positions within the next 72 hours.