As fears of a recession deepen—last week, Goldman Sachs and Merrill Lynch became the latest big names to forecast one this year—many investors looked to play a little defense. In a note to clients, Goldman, Wall Street's biggest investment bank, predicted real gross domestic product would shrink in the second and third quarters, ending up the year only slightly positive, according to a Reuters report, and suggested overweighting four sectors: health care, energy, utilities and consumer staples. S&P upgraded the same sectors according to BusinessWeek.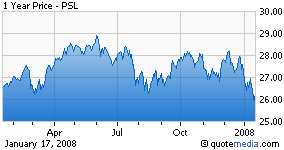 Our PowerShares Momentum Tracker Sector Portfolio holds funds in the first three, prompting a look down the Sector Momentum Table, to where PowerShares Dynamic Consumer Staples ETF (NASDAQ:PSL) entered this week up nine spots in nine weeks, at No. 21.
PSL invests in the stocks of food distributors, nondurable household goods producers, and food and drug retailers. Essentially, PSL bets on the firms that make and sell the products people can't do without, no matter how bad things get economically.
While the ETF is less than two years old, the category has a strong history in down times. In the most recent U.S. recession, during 2001, the household and personal goods category was No. 1 among 24 S&P 500 categories, with a 2.2% March-to-November return. Only two of the 24 groups finished that period with a positive return.
S&P sees the potential for a similar pattern going forward, with its Equity Strategy Group citing multiple reasons: "With investor risk aversion rising amid slowing economic growth, we believe the sector's predictable revenues, low beta, above-average international exposure and 2.3% market-cap-weighted dividend yield will allow it to outperform," the group wrote. "In addition, the sector boasts a high average market cap, which positions it to leverage the ongoing large-cap growth orientation, in our view."
That description fits PSL nicely, though the outperformance hasn't taken hold in the early part of 2008. Through Friday, Jan. 11, the Dow Jones Industrial Average and the S&P 500 were off to historically low starts for the year. The Dow was down 5%, its worst start since 1991, while the S&P's 4.6% year-to-date loss was the index's fourth-worst start since its 1928 inception.
PSL and consumer staples stocks didn't escape, as long-held concerns about housing and credit were amplified by weak unemployment and jobs data. The fund fell 1.3% for the week and was off 3.7% for a month, slightly worse than the S&P 500 in each case.
It may be that a broad sell-off reached the sector, or it could be a bit of a danger sign. Some investors are concerned that normally recession-resistant stocks may not be as downturn-proof as in the past, because sky-high energy and raw materials costs continue, threatening profit margins.
At the same time, many consumer staples firms have tried to address those concerns, by restructuring and, in many cases, shifting more of their focus overseas, where the weak dollar has helped them better tap into faster-growing parts of the world. S&P estimates that consumer products earn nearly half of their revenues overseas, which could help the sector outperform even if a recession hits home, so long as it doesn't tear down the rest of the world's growth.
PSL uses the PowerShares Intellidex model to select stocks, choosing about 60 names based on quantitative factors such as earnings growth, risk factors and various valuation metrics. Accordingly, the fund held no position larger than 2.7% (as of Jan. 11) in any one stock.
Interestingly, three of the fund's top 10 holdings—Coca-Cola (NYSE:KO) (shares up 4% year to date through Jan. 14 and 31.5% for one year), Altria (NYSE:MO) (up 3.7% YTD, 11.4% over three months) and PepsiCo (NYSE:PEP) (down 1% YTD, up 16.2% for one year)—all hit 52-week highs on Jan. 9, just before the plunge of late last week and the early part of this week.
Other PSL holdings haven't done as well, leading to a collection of top-ten holdings that haven't moved in sync. By Jan. 14, Procter & Gamble (NYSE:PG), often viewed as a bellwether for the sector because it's the world's largest consumer products company, was off 5.2% YTD and down 2.0% for three months. That, combined with a 7.9% YTD dip for shares of No. 7 Costco Wholesale (NASDAQ:COST), could bolster the argument that maybe these stocks aren't right for this recession.
Still, history is on the sector's side. And while the fund doesn't have that long a history, PowerShares' hypothetical history of the Intellidex shows that it beat the S&P Consumer Staples Index in seven of the last eight years, including a 9.85% jump in 2001. Now in 2008, PSL may be worth watching, especially if the recession predictions of Goldman, Merrill Lynch and S&P turn out to be accurate.