Market Recap: The market had quite a bullish day as many traders went bottom fishing after several weeks of market weakness. Europe was stronger as well as Apple (NASDAQ:AAPL) to help get the market a nice day. Apple rose over 5% on the back of news about its next iPhone. The strength in Europe helped increase the value of the euro, which allowed the dollar to weaken, helping commodities and equities in our markets. Yet, without much of a catalyst for the markets overall, we would be cautious about this rise. It's still a weak market that has a lot of problems, and we would remain concerned about the market's upside potential.
With the market's up day, we are bouncing nicely off the 1300 level on the S&P (NYSEARCA:SPY) and oil held $90. We would be betting for a pretty flat week and will most likely have some profit taking on big up days like this, but as long as the headlines stay at least somewhat positive, we can see a decent week.

Two Trades
Two trades we like right now are long on Wal-Mart (NYSE:WMT) and an options position in Google (NASDAQ:GOOG). We like buying WMT right now as the stock is in a breakout that is not based in market movement. The stock broke out at the end of last week despite a tough market move, and it broke above Friday's highs again today to push higher. We believe it's headed to 66 in the near-term. Additionally, we like selling put spreads against Google this week for income. We like selling the 590/585 spread for May25 on GOOG for some weekly income. The 200-day MA is at 593, and we expect that line to hold for GOOG this week.
Trade #1: Long WMT
Trade #2: GOOG, May25, 590/585 Bull Put Spread
(Click to enlarge)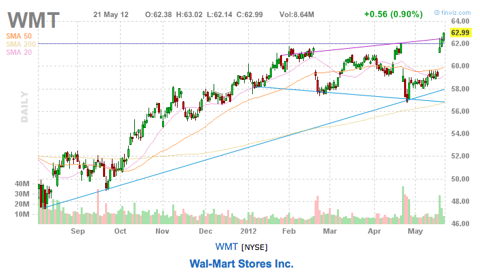 (Click to enlarge)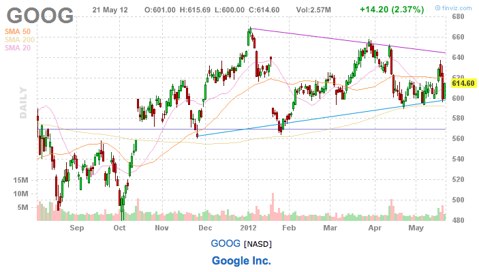 Tomorrow's Outlook
The big data point for tomorrow is Existing Home Sales for us here in the U.S. That report will continue to develop the picture of residential construction that is looking solid right now. A good data point there would definitely help this market continue to see some upside. Yet, we all know Europe is truly the important place this week. For tomorrow, they are going to be reacting to a lot of data points from Great Britain, the OECD Economic Outlook for Europe and eurozone Consumer Confidence. Great Britain has its CPI and Retail Price Index among other reports due out tomorrow. We do have some interesting earnings tonight from Urban Outfitters (NASDAQ:URBN) and earnings from Ralph Lauren (NYSE:RL), AutoZone (NYSE:AZO) and DSW (NYSE:DSW) tomorrow.
Commodity Talk
Based on our historical analysis, oil would be making its largest move in the past 20 years to the downside if it broke 92.50, and we believe that going long on oil at some point here this month around the 92 area is probably not a bad move. With the dollar seeming to have shown a temporary top, this spot may be a nice place to sell some puts against United States Oil (NYSEARCA:USO). We see gold as range bound right now.
Our Moves
We had a solid day as we took a gain on our Chipotle (NYSE:CMG) short off the table for a solid 3.6% gain. We, however, took a 1.5% loss on a short of Motorola Solutions (NYSE:MSI). We added a long on WMT, GOOG and earnings reverse iron condor in VeriFone (NYSE:PAY).
We have the following positions. In our Short-Term Equity Portfolio we are long Buffalo Wild Wings (BWLD), Whole Foods (WFM) and WMT. We are short Under Armour (NYSE:UA), Motorola and Sara Lee (SLE). In our Options Portfolio, we are long Disney (NYSE:DIS) and Panera Bread (NASDAQ:PNRA). We are short Under Armour, Apple (AAPL) and Russell 2000 (NYSEARCA:IWM). We have a reverse iron condor on Ultra Proshares Financial (NYSEARCA:FAS). In our Earnings Alpha portfolio, we are long Western Digital (NYSE:WDC) and Dollar General (NYSE:DG). We have a reverse iron condor in PAY.
Chart courtesy of finviz.com.
Disclosure: I am long WFM.