Cisco Systems (NASDAQ:CSCO) has been a dog since the March 2009 low. Shares are up just a meager 22.5% while the tech heavy Nasdaq is up more than 125%. CSCO has been hampered by multiple earnings misses since August 2010. Two major headwinds that have hurt Cisco's share price are weaker than expected U.S. government spending on CSCO's products and the continued European crisis, accounting for 27% of revenues for the company.
CSCO is cheap, trading around 16.50 per share, but this doesn't make the company a screaming buy. Shares have lost credibility with investors after four major earnings blow-ups since August 2010. Skittish investors will be unwilling to take shares higher until they get two or three consecutive quarters of solid earnings reports and guidance. John Chambers, CEO of CSCO, is unlikely to be bullish during the next 6 months as customers of CSCO are going to be worried about Europe and the possible tax and budget cliff the U.S. faces in 2013.
Despite, all these worries, shares are cheap enough that they warrant buying if you are a long-term shareholder who has a 2-5 year time horizon. The company is expected to earn $1.83/share in the fiscal year ending in June and $1.93 in the fiscal 2013. With shares currently trading at 8.5x 2013 earnings, they trade at a major discount compared to the S&P 500 and other large tech companies. CSCO continues to buy back several billion dollars in stock each year and pays you a 1.9% dividend, which is more than a 10-year U.S. Treasury Bond pays currently.
Without significant organic revenue growth, CSCO shares won't receive a market multiple that exceeds the broader market. EPS growth over the past few years has been driven by share buybacks and not by true earnings growth, which Wall Street doesn't regard as "high quality." I believe that if CSCO can get back on track, shares could trade as high as $24 by the end of 2013. This is contingent on multiple quarters of strong earnings, which prove Europe is not imploding and that the U.S. economy continues to muddle through its problems.
If you are currently long CSCO, there are options strategies to help you earn a little money while waiting for the stock to start trending higher again. I think over the summer, CSCO is likely dead money until it reports earnings in August. I believe a smart strategy would be to sell September $18 calls and collect .58 as you wait for John Chambers to continue a turnaround in CSCO, which has been daunting to say the least. By collecting .58/share you are collecting 3.5% of the current stock price. If shares climb above $18 by September expiration, you will be called away from your stock. That would be a solid 12.5% gain (including dividends) between now and September.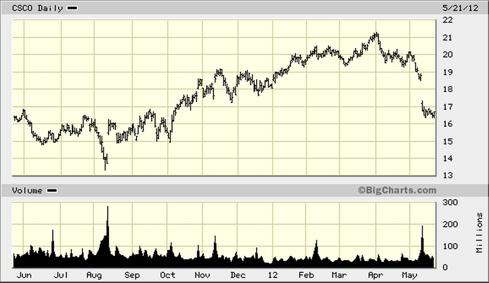 Disclosure: I have no positions in any stocks mentioned, and no plans to initiate any positions within the next 72 hours.