About two weeks ago I read a statement from FedEx stating that among its other cost saving initiatives, the company plans to stall the delivery of some future aircraft. I went home and shorted Boeing (NYSE:BA). I called it a "wait and see" short opportunity because although I can see the potential for a backlog cancellation increase from domestic carriers, new orders from international and non-commercial sources should continue.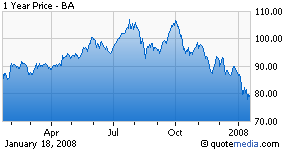 Nonetheless, with the U.S. earnings season in front of us, I knew the domestic customer base would be in focus.
In this market, I can't claim I'm a genius. But maybe I can add some value by explaining why I covered:
1) Good or bad, Airbus' backlog outlook broke open the issue I wanted the market to absorb, and now it would/could digest whatever Boeing had to add (ie. good/bad news about the near/long term).
2) BA took a tremendous hit with the market. It was no longer as expensive as before.
3) While my concern over the domestic order backlog remains, I also firmly believe BA's order backlog will continue to grow outside of domestic commercial carriers. For example, they just announced new orders for Pacific Air and Gulf Air within the last two days. As good news mounts, investors should again take positive notice.
In the face of some near-term focus, I took advantage of an opportunity. While there may be more room to short right now, my rationale came to pass and I won't be greedy.