MLP Overview
MLPs generally offer stable yields that are typically higher than those of common stocks. In addition, MLP returns have traditionally had low correlations with stocks and bonds, making them good portfolio diversification assets (especially in times of economic uncertainty).
As highlighted in Standard & Poor's Guide to MLPs, MLPs offer investors three distinct positive characteristics:
Tax Treatment - Since MLPs are structured as partnerships they do not pay corporate income taxes. Taxes are only paid when distributions are received, thus avoiding the double taxation faced by investors in corporations.
Consistent Distributions - MLPs face stringent provisions including the requirement to pay minimum quarterly distributions to limited partners, by contract. Thus, the distributions of MLPs are very predictable.
Energy Infrastructure - The majority of MLPs operate in the energy sector, particularly in energy infrastructure industries such as pipelines, which provide stable income streams. The performance of companies in the energy infrastructure industry is not highly correlated with the price of oil and other types of energy, but rather with the demand for energy. The demand for energy is far less volatile than commodity energy prices and generally increases steadily over time, resulting in steady, predictable cash flows for companies in these industries.
Is It Time To Buy The Recent Dip?
The Alerian MLP Index is currently in the midst of a healthy pullback, which has been driven in part by the overall weakness in the broader equity and commodity markets. The Index is currently down about 10% from its recent peak in early February.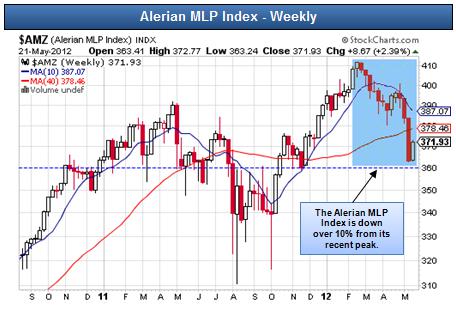 We believe that this pullback is offering retirees (and other income investors) the opportunity to pick up some great MLPs at low-risk entry points.
Top-Rated MLPs
On a weekly basis, we rank over 700 U.S. dividend stocks based on 28 key fundamental and technical data points in five sub-rating categories:
Risk-Reward Profile (e.g., current yield, Calmar ratio)
Financial Stability (e.g., sales and EPS growth, ROE, leverage)
Dividend History (e.g., historical dividend stability and growth)
Future Dividend Potential (e.g., payout ratio, EPS estimates)
Relative Strength (e.g., 12-month total return and trends)
That said, there are currently 5 MLPs that have a composite rating over 90. Note that our composite rating ranges from 0 (lowest) to 99 (highest).

These MLPs have an average dividend yield of 5.3% and average beta of 0.43. In general, companies with low betas will tend to be less volatile than the general market and will help dampen portfolio volatility. In addition, these stocks all have a 5-year total return over 80%, led by ONEOK Partners (OKS) and Enterprise Products Partners (NYSE:EPD). Kinder Morgan Partners (NYSE:KMP) and Plains All American (NYSE:PAA) have the highest current dividend yields of the group, while Magellan Midstream Partners (NYSE:MMP) has the lowest beta.
As shown in the table below, these 5 MLPs have some of the highest risk-reward profile ratings among our entire dividend stock universe thanks in part to their high risk-adjusted returns over the past 5 years.

Stable and Predictable Dividends (Distributions) for Retirees
Through thick and thin over the past 5 years, MLP dividends have been as stable as they come (see table below). Not one of these MLPs have cut their dividend in the last 5 years. As a matter of fact, several of these MLPs have increased their dividends every year for the past 20 years.

Conclusion
While MLPs in general tend to offer investors stable risk-adjusted returns, we feel that the 5 listed above are the cream of the MLP crop. Investors should definitely consider adding these stocks to their portfolio at current levels.
Note: Part 2 of this series will highlight specific "Buy Zones" for each of these top-rated MLPs.