I am known for my views on insurance stocks, and I wrote about those views at RealMoney Friday:
Buy Insurance Stocks. Really. 1/18/2008 12:04 PM EST
Bouncing off Adam's comments on the XLF, the insurers in the index are getting drubbed, and in my opinion, for little good reason. On an earnings basis, many of them are the cheapest I have seen maybe ever, and while some of their earnings prospects will be diminished by the fall in the market, and difficulties in the bond market, in general, the asset side of their balance sheets are in good shape. So, if you are looking for ideas, here are a few I am looking at: MetLife (NYSE:MET), Hartford (NYSE:HIG), Travelers (NYSE:TRV), Lincoln National (NYSE:LNC), ACE (NYSE:ACE), Chubb (NYSE:CB), Principal (NYSE:PFG) and XL Capital (NYSE:XL). Hopefully this will do as well as my PartnerRe (NYSE:PRE) trade last August.
Position: Long LNC
I would add to that list StanCorp (NYSE:SFG) and Delphi (NYSE:DFG). After some thought, I acted:
Bought Some Hartford, Added to Lincoln National 1/18/2008 12:45 PM EST
Lincoln National was a rebalancing buy, Hartford is a new position. Both are quality competitors with good balance sheets. The only possible drawback is in a protracted decline, earnings from variable products could suffer.
Position: long HIG LNC
Then, at the end of the day, I added:
The Dike Has Sprung a Leak 1/18/2008 4:30 PM EST
Fitch downgrades Ambac (ABK) to AA from AAA. Stock has a temporary rally. Is this a great country or what? Because of the social dynamic of the rating agencies, and the existence of one downgrade, the dike has been breached, and I would expect more downgrades.
Hey, maybe it's time for the financing of last resort: Ambac could issue a convertible surplus note. Maybe even sell it privately to Buffett, who could own 30% of the company if things turn around. He won't delta-hedge common against it. They might even be able to get away with a coupon below 15%. Package it with a reinsurance agreement, and the NY State commissioner smiles on it.
Okay, I went overboard there, but there was no reason for Ambac to have its short-lived rally. That's probably why it didn't stick.
Position: none
My last note was half-whimsical and half-serious. Buffett likes convertibles, particularly if they offer attractive optionality at the right price. The question is how big the problems are at Ambac relative to their small capital base.
Now, after the downgrade of Ambac, Fitch moved to downgrade Ambac-guaranteed bonds. This is serious stuff. Moody's and S&P will also likely move on Ambac, and MBIA (NYSE:MBI), FGIC, Security capital (SCA-OLD), and more. Channel Re is toast, and PartnerRe and Ren Re have written off their stakes in them (what of MBIA?). ACA Capital (OTC:ACAH) is dead, or nearly so, facing a midnight deadline for forebearance from their counterparties.
I should also add that there are reinsurance issues among the financial guarantee companies. I mentioned Channel Re, which mainly provided insurance to MBIA. MBIA and Ambac, from what I remember, mutually reinsure about 10% of each other's liabilities. Beyond that, you have poor RAM Re (OTC:RAMR):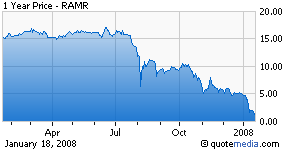 RAM Re attempts to absorb a quote share of the liabilities of the primary financial guarantors. I met their management team during their IPO. They seemed to be good people, and talented managers. But having a quota share of the seven soon-to-be-formerly-AAA guarantors is a ticket to not being AAA oneself. They face risks of insolvency of primary writers, which could lead to their own insolvency.
What I am trying to convey here, is that stress at one guarantor could have ripple effects at other guarantors. The least affected would be Assured Guaranty (NYSE:AGO), FSA (a Dexia subsidiary), and Berky (of course) (NYSE:BRK.A).
As for the recent Barron's article on MBIA, I would only say that it all depends on structured finance losses. If losses on CDOs are severe, MBIA could be a sell even at these levels.
These are unusual times, and it pays for investors to avoid for the most part the financial guarantee space (mortgage and title too). Other insurers (life, health, P&C) are likely better than other financials, and generally cheap; I own a bunch of them.
Full disclosure: long LNC HIG