Pump and dump schemes are a common occurrence in US capital markets today largely because of 4 key factors. The first is that paid stock promotion activities are largely protected by First Amendment rights. The second is the ability of the internet to reduce the cost of delivering promotional material via emails and ads for stock picks pasted in the margins of notable online media like Google and Yahoo. The third reason is lax regulations regarding reverse takeovers ("RTOs"). Also called a reverse merger, this is a type of going-public transaction in which a publicly traded shell company issues shares in order to acquire the operating business or assets of a private company. RTOs are not subject to the same scrutiny from bankers, accountants, regulators and investors as IPOs.
The implication of this is that although IPOs are often overvalued and can make for poor investments, they are far less likely to be complete scams, as RTOs often prove to be. There is little oversight into the quality and accounting treatment of assets or businesses acquired by shell companies in an RTO. Over the last several years, billions of dollars were siphoned away from naive Western investors and into the hands of corrupt Chinese management teams in a wave of RTO fraud which came to a head in 2010-2011.
But there is plenty of homegrown RTO fraud too and the SEC has gone as far as issuing a bulletin, available here, outlining the risks to investors of investing in RTOs. The final factor, without which none of these frauds would be possible, is a lack of due diligence and preference for wishful thinking vs. reliance on logic and thorough, reasonable analysis on the part of investors.
Today I will continue with Part 2 of my in depth examination of Great Wall Builders (OTCPK:GWBU), a company whose stock seems to be the subject of the largest RTO scam of 2012. Today's piece will illustrate how GWBU appears to be the second iteration of an RTO pump and dump scheme which began in 2010 and involves many of the same individuals. I will illuminate GWBU's corporate history, the dubious circumstances surrounding the acquisition of its core technology, examine the recent frenzied campaign of paid stock promotion and evaluate the company's business activities and assets.
Company background
In the company's recent press releases, Great Wall Builders (OTCPK:GWBU) describes itself as the owner of:
the exclusive manufacturing and distribution rights to the Start Fuel Efficiency and Emission Device (FEED), an aftermarket device for internal combustion engines that enhances performance by causing fuel to combust more efficiently and completely.
However, according to its most recent 10-Q, as recently as the end of Q1 2012, the company had no operations and its focus was towards identifying and pursuing the development of a new business plan and direction. We can see from this 8-K from April 11, 2012 that the company issued twenty-seven million, three hundred and six thousand, seven hundred and ninety three (27,306,793) shares of restricted common stock to the Directors and Officers of DPOLLUTION International, Inc. in exchange for the:
formulation, sales, marketing, distribution, trademarks, know-how, trade secrets, supply lists, world-wide rights and other assets and intellectual property of any kind relating directly or indirectly to the manufacturing, formulation, creation, sales and distribution of
a device designed to reduce emissions, lower fuel consumption and improve engine performance.
We can see, based on the 3rd page of the asset purchase agreement, that GWBU is acquiring the product (including an unspecified amount, if any, produced batches or raw materials on-hand); intellectual property; production standards; promotional rights and books and records. The acquisition is light in terms of tangible assets acquired and injects no liquid assets into the shell company. There have been no subsequently announced financings and thus far the company does not appear to have generated any revenue from selling this product.
Therefore, we can conclude that apart from whatever accounting valuation the company decides to attribute to the acquisition, there are likely no other substantial tangible assets that have been accumulated since the company's most recent 10-Q for the period ended March 31, 2012.
We can see by looking at the 8-K regarding this RTO that the board of directors consists only of 2 individuals:
Daniele Brazzi - President, Principal Executive Officer, Principal Financial Officer, Principal Accounting Officer, member of the Board of Directors

Jay Almeida - Director of Operations, Secretary, Treasurer, member of the Board of Directors
We can also see from the 8-K that GWBU only has 2 employees, Mr. Brazzi and Mr. Almeida:
We have no significant employees other than our President, Chief Executive Officer, Chief Financial Officer, Secretary, Treasurer and Director.
The most recent financial statements for GWBU, found in the Q1 2012 10-Q, list it as having no assets and $70.5K in liabilities. Investors should take note that $66.1K of the liabilities consist of a loan from a shareholder. Note 5 of the 10-Q elaborates:
As at March 31, 2012, the Company owes $66,082 to a shareholder of the Company for financing of day-to-day operations. Under the terms of the loan, the amount owing is unsecured, non-interest bearing, and due on demand.
The reasons the company needs financing on a day-to-day basis is because during its entire existence as a company, beginning November 3, 2007, GWBU has generated only $61.9K in revenues, with all of this occurring before 2010 and 2011. Meanwhile, the company continues to generate losses due to management fees and other G&A expenses. Investors should view GWBU's shareholder debt with caution because related-party/shareholder liabilities have also been used in the past by questionable RTO management in order to manufacture millions of low-priced shares for themselves or cronies.
I exposed one such case here at American Liberty Petroleum (OTCPK:OREO) where the CEO and Chairman/Sole Director Alvaro Vollmers converted a related-party debt into 10.5 million shares at $0.0557/share and a warrant to buy another 10.5 million shares at $0.09/share. Prospective or existing investors in GWBU should exercise additional caution due to the fact that the company's board consists only has 2 non-independent directors meaning that such a conversion could quickly be executed without recourse for ordinary shareholders. Even if no such conversion takes place, further examination reveals that the number of almost zero-cost shares outstanding is simply immense.
Based on the April 11, 2012 8-K filed regarding the RTO, the company has 387.3 million shares outstanding. Based on a closing price of $1.58/share on May 21, 2012, the company has a market capitalization of $611.9 million. We can also see here from the 8-K that as recently as March 31, 2012, GWBU's stock traded at $0.00; therefore, any increases in market capitalization are based on events that occurred subsequent to that date. The 8-K also reveals that the company had a very tightly-held float at that point, with only 3 stockholders of record. The company has filed only three other SEC filings since the RTO filing: an 8-K relating to a change in the address of the corporate headquarters; an NT 10-Q indicating a delay in filing its financial statements; and a 10-Q for the quarter ended March 31, 2012.
How GWBU CEO Daniele Brazzi Bought 176 Million Shares of a Shell Company For $0.0001/share And Positioned Himself For A $278.1 Million Profit On Paper In Less Than 2 Months
Article 1 of this stock purchase agreement outlines the terms for Daniele Brazzi's March 26th, 2012 purchase of a majority stake in the GWBU shell. Brazzi paid $17.6K to acquire 176 million shares of GWBU, representing a controlling stake in the company. This represents a price per share of $0.0001. Based on this transaction and the subsequent rise in GWBU's stock price to $1.58 less than 2 months later, Daniele Brazzi is undoubtedly one of the "highest-earning" CEOs in the world in 2012 with $278.1 million in gains, on paper at least…
The 8-K outlining this transaction also outlines the terms of the RTO involving the acquisition of GWBU's core technology.
GWBU's Core Technology Was Obtained Via a Related-Party Acquisition From a Pink Sheets Listed Company With Negligible Assets and a History of Paid Stock Promotion
Page 2 of the asset purchase agreement attached to the RTO reveals that their technology, ostensibly the reason upon which GWBU's entire business and colossal valuation is based, has already been the basis for another public company listed on the pink sheets, Dpollution International (OTCPK:RMGX). An examination of Dpollution itself and its filings reveals that it too appears to have minimal assets, no revenue and a shares outstanding number exceeding 9-figures. Note, as it is listed on the pink sheets, the company has no obligation to file financials with the SEC and it did not do so.
RMGX instead filed financial statements with OTC Markets, an oversight body for the pink sheets. In the most recent quarterly filing made by the company, examination of the balance sheet reveals the company had only $308K in tangible assets, $804K in liabilities and 176.5 million shares outstanding. The company carried its technology on the books for a value of $1.25M, but this figure is suspect based on the nature of the technology acquisition transaction. Note 4 of the filing reveals:
On July 10, 2010 the Company signed a definitive agreement with Dpollution Inc., a private company operating in Quebec, Canada to acquire 100% interest in Dpollution Inc. by issuing 125,000,000 common shares of the Company. The common shares issued were valued at $1,250,000 at an estimated value of $0.01 per share. At the time of the acquisition Dpollution Inc. had a zero net book value. As a result the share value of $1,250,000 is recorded as Technology.
One can see that this constitutes another RTO transaction which manufactured 125 million shares and resulted in no cash whatsoever being exchanged for the rights to this technology. The only consideration for the acquisition of this supposedly ground-breaking technology was shares in a pink sheets shell company. This transaction is all the more suspicious in light of the fact that post-acquisition, RMGX appears to have been the subject of a pump and dump scheme with a number of paid stock promoters touting the potential of the company's technology. Here, here and here are a few examples of paid stock promotion for RMGX's stock in 2010. Note the disclaimers on the first and second pieces:
WSG has been compensated $49,800 by a Third Party, Kapital Corp. for an awareness campaign on RMGX.

Please be advised that RethinkCapital.com is expecting to be compensated by a 3rd Party to perform promotional and advertising services to profile RMGX, which services include the issuance of this release and the other opinions that we release concerning RMGX.
Here is additional documentation regarding some of the promotional material for RMGX stock.
Examination of RMGX's stock chart reveals all the tell-tale signs of a pump and dump with shares of the company experiencing a severe and sustained decline from the high of $1.48 attained in the week of October 15, 2010 to $0.075 12 months later, a loss of 95%. Meanwhile, based on the huge trading volume on the way down, it appears as if millions of shares manufactured in the RTO may have been unloaded onto the investing public.
We can see in this profile from Reuters on RMGX that a key figure involved in that company is also involved in GWBU - Daniele Brazzi, the CEO of GWBU was apparently also the Director of R&D for RMGX. The directors and officers of RMGX are also holders of over 27 million shares of GWBU through GWBU's own RTO.
According to the asset purchase agreement, the technology transfer transaction between Dpollution and GWBU was consummated on March 19, 2012. On March 16, 2012, the trading session immediately prior to this transaction, RMGX shares closed at $0.034, giving the entire company a value of approximately $6 million. Additionally, after the transaction was announced on April 11, 2012, there was no material change in the trading pattern for RMGX, which continued to trade between $0.030 and $0.038 per share.
This indicates that market players familiar with the company did not view the loss of this technology as particularly significant to the company or its prospects. It is highly improbable that the technology is worth more than this figure, and quite possibly worth considerably less in light of the evidence presented above and below.
Other Changes Since Daniele Brazzi Bought a Majority Stake in GWBU for $17.6K: Extensive, Multi-Media Paid Stock Promotion
As with many RTOs, GBWU's stock has been the subject of major paid stock promotions, both online and in the form of physical "snail-mailers". Several examples of such paid email promotions are available here, here, and here.
Note the disclaimers to the promotional pieces:
The company expects to receive $100,000 USD from a third party through the Tengeria Foundation for publication of this information.

The company expects to receive $20,000 USD from a third party for publication of this information. This compensation may constitute a conflict of interest as to Preferredpennystocks.com ability to remain objective in our communication regarding the profiled company.

The company expects to receive EURO15,000 from a third party through the Tengeria Foundation for publication of this information.
There are a couple of lists available here and here which outline the dozens of email blasts and generous compensation being paid to online penny-stock promoters to push GWBU's stock during May 2012. One promoter of note outlined on the first list is awesomepennystocks.com, which has recently built a reputation for promoting dubious stocks which experienced subsequent rapid declines in share price from their peaks of over 90%. A few examples of awesomepennystocks.com's recent promotions and subsequent crashes can be seen below and as one can clearly see, after an initial run these all ended disastrously for shareholders in the companies:
Sunpeaks Ventures (SNPK.OB)
North Springs Resources (NSRS.OB)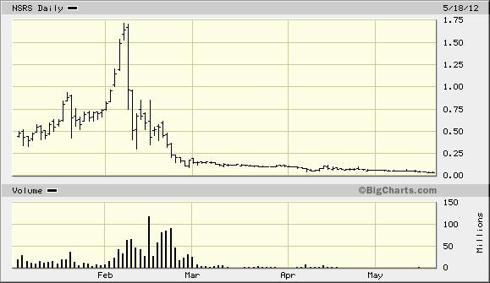 America West Resources (AWSR.OB)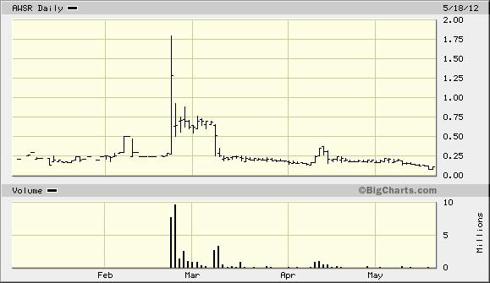 Portage Resources (POTG.PK)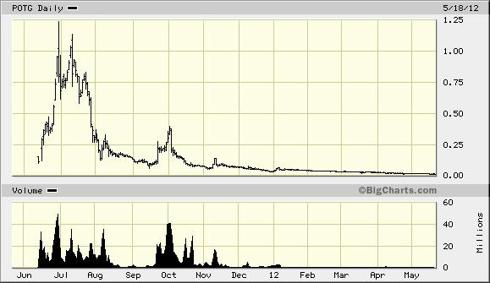 Emails aren't the only form of promotion for GWBU's stock during 2012. There is also evidence of a physical mailer campaign here. Note the disclaimer:
(GWBU), the 'Company' featured in this issue, appears as paid advertising, paid by Serenity Holdings to provide public awareness…CFM has received and managed a total production budget of $1.6 million for this print advertising effort and will retain any amounts over and above the cost of production, copywriting services, mailing and other distribution expenses, as a fee for its services.
GWBU can certainly be viewed as a crowning achievement for all the promoters involved since it has reached the status of a $611 million company with almost no tangible assets and no revenues, whose main selling point is the intellectual rights to an invention they secured from a defunct pink sheets listed company. While promotions mixed with a tightly-held float often result in short-term stock gains, over the medium term, promoted companies perform poorly and paid stock promotion is a strong indication of stock fraud as outlined by the SEC here.
The prices of shares in promoted companies are often manipulated before and during a promotion via "wash sales", a practice whereby multiple brokerage accounts controlled by the same individual(s) trade stock back and forth amongst each other. This can serve to both drive up the price of a stock and also create the illusion of a more liquid market in the company's shares. This practice as it relates to promoted, pump and dump stocks is described in more detail in this article here. While I have no specific evidence that wash sales are occurring with GWBU, the sudden phenomenon of tens of millions of shares traded being traded every day in a newly-minted RTO certainly looks suspicious.
Recent Distribution Contract Partner Appears to be a Ghost Company
As I outlined in Part 1 of this series, investors should be skeptical of a recently announced 8 million euro/year distribution contract as the partner firm, NESS tech GmbH, appears to be a ghost company without even a functioning corporate website or any significant references on third-party websites. Prior to GWBU's announcement of the deal on May 18, 2012, the only references to the company available online were via 3 directory websites, and even they did not list a phone number for the company.
A $630 Million Company Run Out of a Tiny Northern Italian Office With an Austrian Phone Number…
A May 16, 2012, 8-K outlines a change in GWBU's corporate headquarters. Plugging the information from the 8-K into Google maps reveals this premises to be a tiny, fenced-off building in Bologna, Italy, not more than 3 or 4 car lengths wide. Based on the address in the 8-K of 16/a, it appears that GWBU does not even occupy this whole building.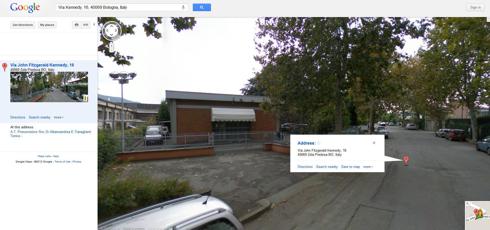 Although this certainly does not seem to be fitting for the corporate headquarters of a $611 million company, there are other troubling inconsistencies. The phone number for the corporate headquarters listed in the 8-K is +43-1-230603635. This phone number corresponds to an Austrian country code, not an Italian one. Is the company being run from the headquarters in Italy or remotely from some location behind-the-scenes in Austria or somewhere else?
Arriving at an Appropriate Valuation for GWBU Stock
GWBU has no tangible assets and neither it nor its predecessor company RMGX have generated any significant historical revenues. The company apparently has a distribution contract for 8 million euros, but this is also questionable based on research into their distribution partner. Even giving them the benefit of the doubt and valuing the company at 5x the estimated yearly revenues under this contract, an extremely generous valuation given the circumstances, we arrive at a value for the company of 40 million Euros. Based on a Euro/USD exchange rate of 1.274, this yields a figure of $51.0 million USD or $0.13/share. Even this extremely generous valuation represents ~92% downside from the current market capitalization of $611 million.
Conclusion
GWBU appears to be the second iteration of an RTO pump and dump scheme that began with its predecessor company RMGX in 2010. After a meteoric rise during the first half of May, the stock looks poised to perform poorly in the months ahead. Although the company recently announced a distribution contract, there are reasons to doubt its significance and future execution potential given that the partner effectively appears to be a ghost company. Despite the fact that GWBU has only 2 employees, no tangible assets and its technology has generated no historical revenues, based on the closing price of $1.58/share on May 21, 2012, GWBU has a market capitalization of approximately $611 million. This seems to be the result of an initially tightly-held float coupled with a flurry of paid stock promotion.
Moreover, this valuation seems completely inappropriate for the company based on its underlying assets and business activities. Over 175 million of the 387 million shares outstanding were purchased less than 2 months ago for $0.0001/share by CEO Daniele Brazzi and another 27.3 million shares are in the hands of the officers of RMGX, another apparent pump and dump scheme. In total, over 200 million shares manufactured in RTO transactions constituting a total value on paper of $316 million are in the hands of individuals with a history of involvement in a major 2010 pump and dump scheme based on the exact same premise and supposed technology as GWBU.
Even assigning the company a very generous valuation of 5x, the annual sales figure listed in the recent questionable distribution contract with NESS Tech GmbH yields a valuation figure representing more than 90% downside for the stock at the current level.
Existing or prospective investors should be extremely cautious when approaching shares of GWBU because they appear to be radically overvalued and management/major shareholders have associations with a major past pump and dump scheme that ended disastrously for ordinary shareholders. Pump and dump stocks might seem exciting while they are being manipulated to the upside, but the point of the game is to push shares out to the public; when the music stops, and it always does as the float becomes increasingly held by retail investors, the losses are rapid and catastrophic to shareholders.
Disclosure: I am short OTCPK:GWBU, OTCPK:OREO.