For the past 7 months, I have been negative on the market. While it took a bit longer than I expected for my thesis to play out, I believe that the consensus is beginning to reflect what I believe wasn't properly incorporated previously. Over the past week or so, I have covered all of my shorts and have actually gone long in the context of playing a bear market rally. I could be dead wrong – I know that it is dangerous to bet against the primary trend, which is now clearly a bear. Further, we are in the middle of a crisis and haven't yet seen the worst of it. Finally, it seems like just a little bit more of a decline could spark a panic. A prudent person would probably just sit it out if possible, as there should be plenty of chances to buy in coming months. The only person that should buy is the speculator/nimble trader or the person who might get suckered in at the top of a rally.
So, why has this confirmed bear (8/6, 8/22, 8/31, 10/22, and 12/16 are some of the many articles I shared on Seeking Alpha) who expects that we are only about half-way done in terms of price declines and quarters away from a bottom going on the record with his own investments, his advice to clients and his published articles expressing optimism? In a nutshell, it is WAY overdone. The seasonal patterns were inverted in late 2007 – the typically weak September/October period surprised to the upside and then the typically strong close to the year was disastrous. As I wrote recently, this behavior flagged a bear market. Well, in January, we have had capitulation in what is typically a decent month as inflows are invested and risk tolerance increases. With options expiration passing and so much bad news already out, I believe that we are done (for now).
It sure feels bad. The markets haven't been like this since 2002. The results of my two favorite screens that I run on StockVal every day aren't helping me at all. One screen, designed to identify shorts (or sale candidates) and that I shared in September, has been slim recently. For the first time, it gave me an error message today: "There are no stocks passing this screen." This is a bummer, because I have found some great ideas off of this screen. What it tells me is that the cat is way out of the bag. On the other hand, the other screen, developed to identify smaller, undiscovered companies with high growth and reasonable valuation, is kicking out only two names. At year-end, there were only six. In a typical month, there have been 10-15 names meeting the stringent criteria. This tells me that people are selling the momentum stocks too (relative to the market). While the lack of output from my screens speaks loudly to me, I doubt that it is enough to convince the reader. So, here are some other observations:
The market is oversold (see chart)
Sentiment (measured in many ways, but P/C ratio for one) is extreme
Treasury yields are the greatest contrarian indicator – way too low
Dollar decline may be over as solutions beyond rate-cuts are explored
Financial stocks have retraced 70% of their rise from 2002-2007
Consumer Discretionary stocks have retraced 56% of their move
The largest banks will all have reported after BAC on Tuesday – the news is out
ABK and MBI are already assumed bankrupt for the most part
Financials are having little trouble raising capital (don't get excited!)
The newspaper headlines reflect recession expectations
We are near long-term support levels for the oversold R2000 (see chart)
Investors rotated last week into Consumer and Small-Cap and out of Energy
Friday's action had the "safe" Health, Utility and Consumer Staples leading down
The rolling over of the leaders is a sign of capitulation (as expected)
Cash must be burning a hole in the pockets of institutions!
When I take all of this into account, I conclude that playing from the long-side is safer than the short-side. I have written about many of my shorts, most of which have fallen so much I couldn't maintain the positions even if I felt that the market were going to keep dropping. The dogs have been run over, and the kings have been kicked off of their thrones. So, how can one best go long in this environment? For long-term investors, I continue to believe that this year will treat Healthcare the best. I wrote about 7 stocks to own two weeks ago, the last two of which I purchased this week. I would suggest that biotech should work – I described my favorite ETF for the sector in December, SPDR S&P Biotech (NYSEARCA:XBI). It will be interesting to see how well the sector does if we do rally. The rally's potential will be suspect if they lead the way short-term. I think that Consumer stocks could lead the way in this rally, as they are extremely cheap.
I also believe that Financials are due for a rally and have purchased the ETF Financial Sector SPDR (NYSEARCA:XLF). Do be careful there, as the reward could be great, but the risk is still very high. It is quite possible that THE lows are in on that sector, though I expect a long base rather than a v-shaped bottom. I think that small-cap could perform best short-term. Finally, many of the leaders that have been whacked hard are likely to draw buyers. Don't get carried away – it's just a rally! Hopefully, a rally!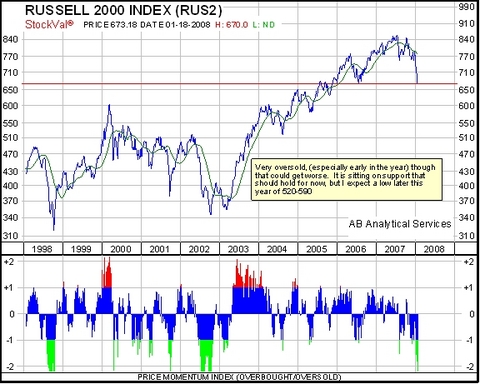 Disclosure: Long XLF with a very short leash