The stock of Calumet Specialty Products Partners (NASDAQ:CLMT) has been unusually punished by the marketplace over the last few trading days, going from a high of around 27 on May 7th to yesterday's price, which was 22.51, a rally off of its recent low at just over 21.
In addition to the general market downdraft, the company just announced a share issuance which has a dilution effect. I argued in this article that the decrease in price is a buying opportunity, since the company is raising capital and is likely to expand their capacity, thus allowing CLMT to give more money to us shareholders in the form of the nice, generous dividend payment, which is in excess of 9%.
So the question comes up: At what point would it be best to enter or increase your position in CLMT?
We can go back over the last year to CLMT's two share issuances, the dividend history, and also consider the crude oil price to try to figure out the point of most favorable entry: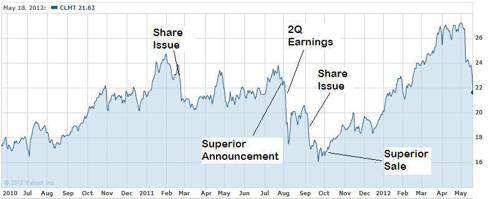 I've annotated the graph with a few points of interest:
The stock was trading at about $24 per share in mid-February of 2011, and immediately after the announcement of a 5.1 million share offering on February 23, the stock dropped to 20.70. On July 23 last year, the company announced the purchase of the Superior WI refinery from Murphy Oil, and a few days later on August 3, announced a net loss for the 2nd quarter, which was due to a one-time write-off of debt refinancing, as well as a loss on derivatives trading caused by the drop in crude oil prices that occurred at about this time last year.
On September 8th, an additional 11M share issuance was announced, which caused the price to fall from about $20 to about $17 per share (this was also the time of general stress in the entire market because of the situation in Europe).
On October 3rd, the Superior sale was closed, and at that point, the stock began its steady climb, it peaked out a couple of weeks ago at $27 per share before falling back to its current level.
The company declared five straight increasing dividends along the way: 4-8-11 at $0.475 per share, 7-22-11 at $0.495 per share, 10-11-11 at $0.50 per share, 1-23-12 at $0.530 per share and most recently on 4-18-2012 at $0.560 per share.
So, the question of the day is: What would have been the best point to enter the investment in CLMT, if you suspected, as we now do, that CLMT will use the proceeds to make another capital investment?
Here are some options:
1. Enter right after the first announcement
If you had gone long on CLMT on 2-24-11, the day after the market punished the stock, you'd have entered at 20.98, and between that time and now, collected all five of the dividend payments, which total $2.56 per share. Your effective cost basis would have been $18.42, and based on today's price of $22.64 you'd be able to walk away having essentially gained $4.22 per share, a return of a little more than 20% on your 15-month investment.
It is quite true that since the stock price did correct sharply in early August, you would have been underwater on your investment between August and the November dividend payment.
However, keep in mind that notwithstanding the fact that we cannot anticipate another share issuance in the fall, this is exactly the situation we find ourselves in today. A share issuance, a precipitous drop, and a lot of question marks.
2. Enter on the worst day possible
It is also quite true that you do not have the benefit of a crystal ball, and therefore if you had been one of the people that entered the investment just before the 7-23-2011 share issuance at $23.80, you would have been pretty sad a week later with the stock at $17.49, and even sadder in late September after the second share issuance with the stock just above 16.
However, if you had stayed the course, collected the October, January and April dividends, which total $1.59, you are a little better than even money today, even after the recent beat-down. Plus, you have an increased dividend stream to look forward to in the upcoming quarter or two, particularly if CLMT does what you think it will do and use this capital to make the company bigger and better.
Keep in mind also that part of this drop was due to the relatively poor earnings announcement of August 3rd. This bad quarter had at its source three issues: First, The company wrote off $15M of debt restructuring cost. This was an artifact of the debt restructuring that it did in early April that in and of itself influenced the stock price positively at the time. Second, there were three weeks of downtime caused by flooding in Louisiana that impacted production. Finally, the company chose to take all of their bad news in the same quarter, and write off $4M in derivative losses. This is the most important item of the three because it is the most likely to be repeated. CLMT does a lot of hedging of crude oil, and the hedging gains or losses quite often dwarf the operating income. The hedging losses in the second quarter were partly because of the collapse of the crude oil price. WTI went from $113 to $91 between April and the end of June, and while the effect was beneficial for CLMT's feedstock costs, it was undoubtedly bad for the company's hedging positions.
Here is why this is important: With the current situation in crude oil, with WTI going down nearly $20 per barrel since April, it would not be terribly shocking to see a repeat of this in CLMT's second quarter earnings, which will be announced in early August.
3. Enter on the best day possible
Keeping in mind what we always say, that there are no guarantees on anything, you could have done the following:
After about two months of depressing news, the general downtrend in the markets, and a bottoming oil price, you could have seen the actual Superior sale announcement, figured that WTI had about hit bottom, and gone long on CLMT at that moment at a price of $17. You would still have collected the three most recent dividends, and today at a price of about $22.50 you would be 46% ahead on your investment after roughly 8 months.
Even if you had mis-timed the market slightly, and gone long at $20.50 or so when CLMT rallied in September, or at the same price a little later in October, you would still have collected the three dividend payments totaling $1.59, and still would be 20% ahead on your investment even after today.
So what are we to make of all of this?
Here are the positives: an excellent recent earnings announcement, a steadily increasing dividend, rapid growth through acquisition and the most recent share issuance signaling either retiring some debt or another acquisition. There are worse things to do than go long after a pullback, as the market is demonstrating today.
Even if you are not lucky enough to time the absolute bottom, a patient investor that is content to collect a few rounds of dividends has an opportunity to make better than the current 2% CD rate.
Alternately, you could wait until after the early August earnings announcement, You would have two, and possibly three more pieces of information: You'd know what happened to the WTI price, you'd know the results of CLMT's hedging in the second quarter, in light of the crude oil price decrease, and you might know what the company is going to do with the new issuance money. The risk is the $0.56 dividend that you would miss in July, so maybe that is the cost of a little more information.
Do with this information what you will, keeping in mind that there are perils all around us.
I think I'll stay in cash, and wait until August.
Disclosure: I am long CLMT.
Additional disclosure: I am still ahead on my long position from last year but will wait until the August earnings announcement to add to my position.