The selloff in the commodity space has been vicious since the top in April and energy specifically has taken a beating. Everything from oil, to service companies to E&P companies have all been sold and sold hard. Is this warranted? Time will tell if we are in the midst of another summer swoon; will we come out of this one unscathed as we did the last two?
As the Energy Sector (NYSEARCA:XLE) enters support area from the November/December 2011 lows, many are predicting a bounce. The question is, is this bounce buyable? Or is it just a short term pop that will lead the way to more aggressive selling? I think it's important to look at the underlying fundamentals in order to properly position yourself for the future and to do so, we'll look at Halliburton (NYSE:HAL).
Generally speaking, HAL is fairly loved by the analyst community, and rightfully so. They have a solid balance sheet and are a best in breed oil service name. HAL has a price target in the mid to high 40s and with 29 buys, 5 holds and zero sells on the name, the sentiment is rather bullish. By almost any metric HAL seems relatively inexpensive. But is it?
It's all about Rig Count
This stock lives and dies by the number of rigs running in America. Baker Hughes gives weekly updates to rig counts both in North America and International. Rig counts right now are at near all time high levels, hovering around 2000. Compare that to the fact that HAL is trading near half of its 52 week high, many question why the steep discount?
Growth in Count. It is hard to think rig counts can consistently rise from here considering the fact that many of the US shale gas plays are dropping rigs due to historically low natural gas prices. Nat gas has rebounded in recent weeks but many feel this is a short term pop on the heels of an extremely oversold condition. The fundamentals are simple, we have a massive glut of nat gas and until that changes it will remain low. How low? Who knows, but the fact is you will not see major development campaigns from natural gas producers until something happens with supply.
Price Per Rig. Judging from this metric, HAL is really not that undervalued whatsoever. HAL is currently trading at 0.0152 per rig running in the US (their largest market). The historical average since 2000 is 0.0168 per rig running. If you take the historical average and multiply it by current rig count levels (1975) you come out with a valuation just over $33.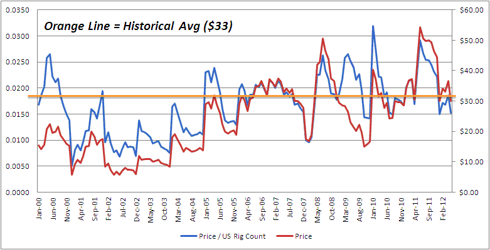 Margins the Canary in the Coal Mine?
Although margins in this business cycle never recovered to the 30%+ range that they were in the previous one, an interesting pattern could be unfolding here. Despite all time high rig counts, HAL's North American margins are under pressure. One would think the opposite would be going on here. Margins should be expanding, but instead a price war is beginning to take shape much like we saw in 2007/2008.
Some time around the middle of 2007, HAL's gross margins fell from the low 30s to the mid 20s, despite extremely high rig counts. Although rig counts did not materially fall off for another 12-18 months, it signaled weakness ahead. Rig counts went on to plummet in late 2008 and early 2009 during the financial crisis.
HAL's gross margins peaked in the middle of 2011 and have been slowly decaying ever since, again, despite all time high rig counts. The pattern is eerily similar to that of 2007/2008. Add to the fact that HAL has guided gross margins to the tune of 20% by the end of the year and you have a continued slow and steady decline, much like we saw the last time. Take a look at the chart below for a visual. If this pattern continues to take shape and unfold like 2007/2008, we will be seeing a major drop in rig counts towards the middle or end of 2012.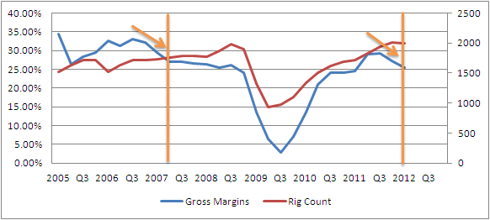 Dividend Growth? Keep Dreaming...
On the Q1 2012 conference call, management was asked about a buyback due to depressed price levels. HAL could buy back some meaningful stock at these levels, but in more words or less said that until Moconda is settled, don't expect a buyback, which means don't expect an increased dividend. Management also alluded to the fact that we are not close to Moconda being settled for good. HAL yields a paltry 1.2% right now from current prices. And although they could double that very easily and still be safe from a vicious downturn in the industry, they won't.
The Value in Long Term
Now it's not all bearish, HAL continues to take market share in the North American market. It is the premier service company on this continent and if you believe in the long term value of our nation switching from oil towards natural gas you will be hard pressed to find another company more ready to capitalize on that process than HAL. The problem is, that may be a long way out. HAL has a manageable debt level, with half of its 4.8 billion in debt coming due around 2020, and the other half way out in 2040. The company is rock solid on a long term time horizon.
But that doesn't make it a good buy right here, right now. It's not as undervalued as many think. Sure its P/E levels are low, but where is the growth going to come from? It sure won't come from the US market with natural gas at these levels, and their international presence leaves a lot to be desired. HAL should trade at a discounted P/E considering its growth prospects looking out 12-18 months. If the company paid a juicy dividend that would be one thing, but it doesn't and has no intention of doing so any time soon. Its margins are contracting, its revenue is flat at best.
Eventually the US market will experience a boom in shale gas drilling that will rival anything we have ever seen before. It's not a question of if, more when. Right now the fundamentals do not support that kind of movement and until it does, HAL will remain under pressure. Bottom line: it's not as undervalued as you may think.
Disclosure: I have no positions in any stocks mentioned, and no plans to initiate any positions within the next 72 hours.